Academic Development and Quality

Popular this month
SCALE-UP is an active learning approach combining peer teaching, flipped and enquiry-based methods and professional skills development through group activity. The approach has been linked with improving conceptual understanding, problem-solving and engagement, decreasing attainment gaps and reducing failure rates. NTU now has 12 dedicated SCALE-UP classrooms at City and Clifton,  which incorporate bespoke classroom design and specialised equipment. For support with any SCALE-UP related matters, from timetabling to adapting curriculum, contact: NTUSCALEUP@ntu.ac.uk.
The University's framework, procedures and processes for assuring and enhancing the standards and quality of academic provision. Includes an overview of committee terms of reference and membership.
Quality Handbook, Section 1: Academic quality governance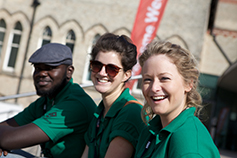 What do you want to do?