Academic Development and Quality

Popular this month
NTU now has 12 SCALE-UP rooms across the City Campus and Clifton Campus, designed to suit a variety of subjects, cohort sizes and equipment preferences. For further information and to view room specifications, visit the SCALE-UP web pages. For support with all aspects of SCALE-UP, including curriculum design, teaching approaches, equipment and timetabling, contact NTU SCALE-UP.
Coming in 2017
2017 Course Leader Conference - May 2017
Conference theme: Working in partnership with students.
TILT ALTC - June 2017
Conference theme: Creating communities
Call for papers will open in February 2017.
The University's framework, procedures and processes for assuring and enhancing the standards and quality of academic provision. Includes an overview of committee terms of reference and membership.
Quality Handbook, Section 1: Academic quality governance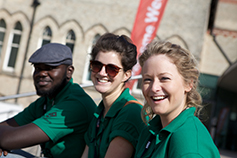 What do you want to do?