Distinguished Lecture Series: Gavin Esler
The Power of Stories
Date: Wednesday 11 March 2015
Time: 6 pm - 7.15 pm
Location: Newton building, Main Entrance, Nottingham Trent University, NG1 4BU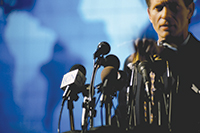 Gavin Esler is an award winning television and radio broadcaster, journalist and author.
He is presenter on Dateline London on BBC World and the BBC News Channel, and he has presented numerous other TV and radio programmes ranging from Newsnight to Breakfast News.
Gavin is the author of five novels and a non-fiction book about the United States. He is also a frequent newspaper and magazine columnist.
For more details about Gavin Esler, please download our online brochure.
Lecture synopsis:
From over 30 years' experience of interviewing presidents, prime ministers and world famous figures, such as Angela Merkel, Bill Clinton and Margaret Thatcher, Gavin has learnt that great leaders have always understood the power of stories. In his lecture, Gavin discussed the three stories every leader tells to encourage other people to follow them.
---