The Hive: creating the UK Pavilion for the 2015 Milan Expo
A guest lecture by NTU Fine Art alumnus Wolfgang Buttress and NTU physicist Dr Martin Bencsik
Date: Tuesday 26 January 2016
Time: 6 pm - 8 pm
Location: Lecture Theatre 2, Newton building, Main Entrance, Nottingham Trent University, NG1 4BU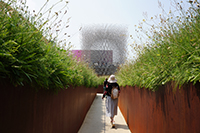 In January 2016, Nottingham Trent University (NTU) is delighted to host a guest lecture by NTU Fine Art alumnus Wolfgang Buttress, creator of The Hive, the UK Pavilion at Expo Milano 2015.

The theme for the World Expo was 'Feed the Planet, Energy for Life'. Wolfgang's design highlighted the importance of pollination in the food chain and drew on honeybee research carried out by NTU physicist Dr Martin Bencsik.
Visitors experienced the Pavilion from a bee's-eye view, meandering through an orchard of apple trees and navigating a meadow of British wildflower species before entering The Hive – a 14 m sculptural, honeycomb-inspired lattice, comprised of 32 layers and 169,000 aluminium components. A nine-metre spherical void hollowed from the centre allowed visitors to inhabit the sculpture while a glass floor allowed views through from below.
The lighting and soundscapes within the structure were inspired by Dr Bencsik's research, with instrumental sounds and an array of 891 LED lights buzzing and pulsating in response to live-streamed signals from a real bee colony kept at NTU.
The UK Pavilion brought together art, science, sound, architecture, engineering and landscape through an immersive and multisensory experience that signifies the important and intrinsic relationship between bees and humans.
The Pavilion has collected twelve design awards to date, including the BIE's Gold medal for best Pavilion architecture and landscape, Best Public Use Project with Public Funding Award at the prestigious Blueprint Awards 2015, and the Best Pavilion Architecture Award from the Italian Association of Architects and other Italian National Construction and Landscape bodies.
On Tuesday 26 January, at 6 pm we welcome Wolfgang to share his thoughts on the concept behind the design and how the vision for this award-winning pavilion was realised. Joining Wolfgang will be Dr Martin Bencsik, who will discuss his scientific research and the role this played in shaping the project.
Book your place
To attend this event please register your attendance by selecting 'add to basket' and complete a brief online booking form.
This event is open to students, staff, and the general public. Admission is free.
Enquiries
For all enquiries please email the Events Team or telephone +44 (0)115 848 8268.
Open discussion: multidisciplinary research, teaching and practice
Tuesday 26 January, 4 pm - 5.30 pm
Newton 44, Level 4, Newton building, NTU City site
The Trent Institute for Learning and Teaching (TILT) is delighted to support an open discussion on multidisciplinary research, teaching and practice. This discussion will precede the guest lecture by Wolfgang Buttress. 
The Hive project is a wonderful example of an unusual and very successful collaboration between different disciplines at NTU and beyond.
If this inspires you to want to work across disciplines, please join us to discuss how we can make this a reality. 
Images: The Hive, UK Pavilion, World Expo Milan, 2015; Wolfgang Buttress, courtesy of Melton Original Portraits.
---