Distinguished Lecture Series: Dame Helen Ghosh
What are the challenges facing the National Trust in the 21st Century?
Date: Wednesday 22 March 2017
Time: 6 pm - 7.15 pm
Location: Newton building, Main Entrance, Nottingham Trent University, NG1 4BU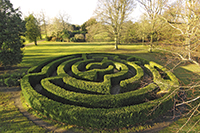 Helen Ghosh is Director-General of the National Trust.
Since joining the Trust, Helen has overseen an ambitious programme of work, including leading the development of their 10-year strategy and committing £2 million a week to the conservation of their landscapes, houses and coastline.
For more details about Dame Helen, please download our online brochure.
Lecture synopsis:
The National Trust has always been an organisation that responds to the threats of the time, and this is no different in the 21st Century. A changing climate, the expectations of a fast-moving world and the pressures of development, mean heritage and nature are under greater threat now than ever before. 
This lecture explored the challenges facing the Trust; how it responds to economic, environmental and societal change; and what the nation needs from the National Trust in the 21st Century.
---