Understanding Apprenticeships and the Levy
Breakfast event
Date: Tuesday 15 March 2016
Time: 7.30 am - 10 am
Location: Newton building, Nottingham Conference Centre, Nottingham Trent University, NG1 4BU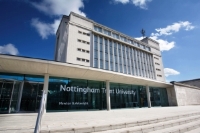 In November 2015 the government announced their aim to grow the number of apprenticeships to three million by 2020. 
To achieve this goal, from April 2017 most large companies will be required to pay the government's new National Apprenticeship Levy with a tax of 0.5% of their payroll. All businesses, large and small, will be able to apply for funding to spend on apprenticeship training.
As part of National Apprenticeship Week, Nottingham Trent University is hosting a panel event to give local businesses the opportunity to understand the changing landscape of apprenticeships, discuss the levy, and find out more about how the changes will affect them.
Topics will include:
how the levy will apply to your business
how to access funding
how to encourage more young people to become apprentices
apprenticeships to develop skilled trades and professional staff.
There will also be the chance to discuss your future apprenticeship needs. Nottingham Trent University currently offers apprenticeships in Chartered Management and Food Technology, with Construction to follow. However, we are also developing new apprenticeships for a variety of sectors and are keen to work in partnership with employers to create industry-focused courses.
The panel
Eunice Simmons: Senior Pro Vice-Chancellor, Nottingham Trent University.
Paul Johnson: Employer and Delivery Services Manager, Skills Funding Agency's National Apprenticeship Service.
Stephanie May: Apprenticeship and Access to Work Programme Manager, Boots UK.
Janette Graham: Technical Learning and Development Manager, 2 Sisters Food Group (whose brands include Fox's Biscuits, Goodfellas Pizza, and Matthew Walker).
Nigel Gell: Vice Principal Commercial and Recruitment, NCN New College Nottingham.
Katrina Woodward: Commissioning Manager (Skills and Employability), D2N2 Local Enterprise Partnership.
The event host will be Dr. Gareth Thomas, Managing Director of Skills and Employment Support Limited (previously Head of Employment and Skills for the Skills Funding Agency).
Who should attend?
This event is aimed at any size of business in the region which is looking to start or grow an apprenticeship programme, or is concerned about the impact the levy will have on their business.
There is no fee to attend. However, places are limited, so please book as soon as possible.
Contact us
If you would like to submit a question in advance please email us.
For further information or to find out more please contact:

Fi Thompson, Industry Liaison Manager – Apprenticeships, Nottingham Trent University. 
Telephone: 0115 8485238
---
By category
Country visits

Music events

Sport events