Enabling Innovation Strategic Digital Marketing
Uncover the tools to grow your business online
Date: Wednesday 24 May 2017
Time: 9 am - 4 pm
Location: Vision West Nottinghamshire College, Derby Road, NG18 5BH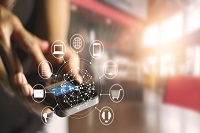 Enabling Innovation presents:
Strategic Digital Marketing Masterclass with Impression
Could your marketing use some fresh ideas? Nottingham and Derby based SMEs are warmly invited to our masterclass on Strategic Digital Marketing, hosted at Vision West Nottinghamshire College in Mansfield.
During the session, you'll learn all about the digital marketing techniques available to businesses today, with clear, tangible tips for you to apply in your own business.
Laura Hampton, digital marketing manager at Impression, will open the session with an introduction to organic search marketing. Ever wondered how to get your website to the top of the search results list on Google? You'll learn that - and more - here.
Next, Aaron Dicks, managing director of Impression, will explore the topic of paid advertising online. From Google AdWords to Bing Ads to social media advertising, there are plenty of ways to advertise your business online. Aaron will explain how to choose the channel for you, and how to make the most of your budget.
After lunch, Impression will be joined by two guests. Paul Gordon, founder of social media agency Gather Social, will explain how you can use social media to grow your business online. To close the day, James Bryant of video marketing agency Skeleton Productions will share his expertise on how to craft a video marketing strategy, how to make your first video and video promotion techniques.
Based in Nottingham and with an office in London, Impression specialises in results-driven SEO, PPC, PR and content marketing, as well as web design and development. To find out more, visit www.impression.co.uk.
Skeleton Productions is a video marketing agency that prides itself on its strategic approach to video. Find out more at https://www.skeletonproductions.com/
Gather Social is a social media agency with a focus on driving clear results and business advantages through social media. Find out more at http://gathersocial.co.uk
This event is for SMEs in the D2N2 area. We welcome attendees from our previous events and also any newcomers who are interested. Refreshments and nibbles will be provided. Please click on the Booking tab above to book your place.
We would advise you to bring your tablets or laptops along if possible for use during some interactive activities.
---
By category
Country visits

Music events

Sport events