Ig Nobels - A celebration of science
Date: Wednesday 18 March 2015
Time: 6.30 pm
Location: City site, Nottingham Trent University, NG1 4BU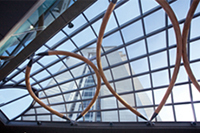 The Psychology Division within the School of Social Sciences at Nottingham Trent University are delighted to welcome Ig Nobels – A celebration of science on Wednesday 18 March.
Ig Nobels – A celebration of science
The Ig Nobel Prizes honour achievements that first make people laugh, and then make them think. The prizes are intended to celebrate the unusual, honour the imaginative — and spur people's interest in science, medicine, and technology.
The awards are held each year at Harvard University and each award is presented by a Nobel laureate such is the esteem of this event. Over the past few years Marc Abrahams has brought an Ig Nobels tour to the UK in the spring. The tour highlights some of the key awards from the Ig Nobels' back catalogue and provides a great opportunity to promote science to a wider audience. 
Details of their UK events and more information about the Ig Nobels can be found on their website.
The programme will feature Marc Abrahams, organiser of the Ig Nobel Prizes, editor of the Annals of Improbable Research, and Guardian columnist, together with a gaggle of Ig Nobel Prize winners and other improbable researchers. This year's programme will include: Chris McManus (Ig Nobel winner, Scrotal asymmetry in ancient Sculpture and man); Richard Stephens (Ig Nobel winner, The effect of swearing on pain); Richard Webb (Tribute to John Hoyland, the father of Nominative Determinism).
Book your place
The event is free but booking is essential. To book your place(s), please click on the Add to basket button above and complete the short online booking process. 
If you have any questions regarding the event, please contact the conference organiser. 
---