Lace:here:now
Dates: Monday 3 September 2012 - Thursday 31 January 2013
Location: Bonington building, Nottingham Trent University, NG1 5LS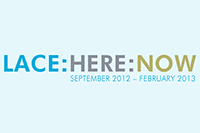 Fuelled by a continued resurgence of lace in contemporary culture and art and design practice, Lace:here:now was a season of events that took place in the city that was once at the heart of the lace manufacturing industry - Nottingham. In recognition of the value of lace and its importance to the identity of Nottingham and beyond, Lace:here:now celebrated the heritage of Nottingham lace and demonstrated that lace still inspires, fascinates and excites.
Evolved from a series of discussions between Nottingham Trent University's School of Art & Design and Nottingham Castle Museum and Art Gallery, the season took place at key venues across the city.
Download your copy of the Lace:here:now events brochure
Event listing
Exhibitions were held at Nottingham Castle Museum & Art Gallery, Bonington Gallery, and Lakeside Arts Centre. Other events included opportunities for lace making workshops at New College Nottingham, films about Nottingham Lace at Broadway Cinema, heritage weekends and much much more.
Nottingham Trent University Lace Archive film
To compliment the Journeys in Lace - Part Two Exhibition at The Bonington Gallery, a film was produced to showcase the University's beautiful collection of lace. Take a look at the film.
Keep up to date
Follow us on the Bonington Gallery Facebook and Twitter pages.
---