Fine Art Live Lecture Series presents: Erica Scourti
Date: Thursday 19 January 2017
Time: 5.15 pm – 7.30 pm
Location: Lecture Theatre 2, Newton building, Main Entrance, Nottingham Trent University, NG1 4BU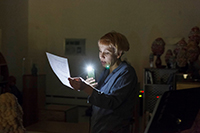 We are delighted to invite Erica Scourti to speak at the first Fine Art Live Lecture for 2017. Born in Athens, Greece and now based in London, Scourti's work draws on personal experience to explore life, labour, gender and love in a fully mediated world.
Recent exhibitions include:
Bedlam: The Asylum and Beyond, Wellcome Collection, 2016-2017
Fireflies in the Night, Niarchos Centre, Athens, 2016
Third Party, CTRL+SHIFT, Oakland, 2016
She has also exhibited at: Het Nieuwe Instituut, Rotterdam; Microscope Gallery, New York; Somerset House, London; Foundation for Art and Creative Technology (FACT), Liverpool; The Photographers' Gallery, London; Hayward Gallery, London; Munich Kunstverein, Munich; EMST National Museum of Contemporary Art, Athens, and Banner Repeater, London. 
Scourti has recently presented performances and talks at: Whitechapel Gallery, London; South London Gallery, London; Block Universe Festival, London; IMPAKT Festival 2016, Utrecht; Transmediale, Berlin; Dutch Art Institute, Arnhem; Institute of Contemporary Art (ICA), London; Southbank Centre, London; Royal College of Art, London; Goldsmiths College, London and Sandberg Institute, Amsterdam.

In 2015 Scourti was in residence at Wysing Arts Centre and the White Building, London, and she is currently a resident of Somerset House Studios.

You can read more about Scourti by visiting her website.
No prior booking required
This event is open to students, staff, alumni, and the general public.
Admission is free.
About the Fine Art Live Lectures Series
The Fine Art Live Lecture Series is an initiative by Nottingham Trent University's Fine Art course, whereby creative practitioners are invited to deliver a lecture to current students. The lectures are also open to staff, alumni and the general public.

The lectures take place during term-time only.

The course also has an informal Facebook page giving details about forthcoming lectures.
Enquiries
For all enquiries, please email us or telephone +44 (0)115 848 8651.
---