European First Year Experience Network (EFYE) 2014 Conference
Dates: Monday 9 June 2014 - Wednesday 11 June 2014
Location: Newton building, Main Entrance, Nottingham Trent University, NG1 4BU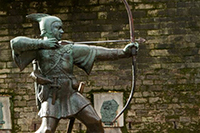 The EFYE Conference was hosted by Nottingham Trent University in Nottingham, England, building on a rich history of conferences in the UK, Sweden, the Netherlands, Belgium and Finland.
There were two main themes this year:
The student lifecycle
How do we prepare students for their new lives at university?
How do we best deliver new students' inductions?
How do we help students to make the transition through the year?
How do we prepare students for subsequent studies?
Building a first year experience for European and international students
With increasing opportunities to study across Europe, how do we build a first year experience to suit European and international students?
Key dates
2 December 2013 - Call for papers opened
24 January 2014 - Deadline for submissions
28 February 2014 - Presenters confirmed and schedule finalised
3 March 2014 - Conference registrations opened
14 April 2014 - End of the early bird conference rate
30 May 2014 - Last day of registration
9 – 11 June 2014 - Conference took place
---