Open Dome Event - Astro makes the School go Wow - Astronomy in Schools
Date: Friday 25 July 2014
Time: 8 - 10 pm
Location: CELS, Nottingham Trent University, NG11 8NS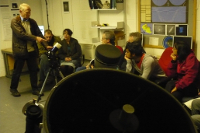 Astronomy always triggers questions and interest across all ages. Especially students in schools find this topic inspiring. In recent years the Patrick Moore's Medal has been set up by the Royal Astronomical Society to recognise outstanding teaching on astronomy taking place in schools. And we welcome this year's winner Ms H Flood (Coopers School).
The event will start at 8 pm with a talk by Ms H Flood who is a former NTU student and former science teacher at the Long Eaton School. In her presentation Astronomy as a tool for student engagement in secondary schools science she will outline how her exceptional work at The Long Eaton School and the establishment of their onsite observatory became award winning. This work has led her to become a teacher in the UK's first Space School. This talk will be followed by a brief introduction on what is visible in this month's sky.
Booking is required for this event.
---
By category
Country visits

Music events