Open Dome Event – From Earth's Images to the Hubble Deep Field
Date: Thursday 26 May 2016
Time: 8 pm - 10 pm
Location: CELS, Nottingham Trent University, NG11 8NS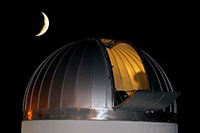 Images are the most potent means of inspiring awe and wonder, and perhaps the most powerful of all are images of the Earth taken from space. This year sees the 40-year anniversary of full-Earth images taken from the Moon by both Russia and the USA; furthermore, it also sees the 60-year anniversary of Earth images taken from space.
Dr R Turner (NTU) will share the amazing journey in images of the Earth, extending it to the deepest depths of space – the Hubble Deep Field. Challenging anything we ever believed, this modern Hubble image of seemingly empty space harbouring thousands of galaxies is counted among the most important astronomical images in history. This talk will be followed by a brief introduction to what is visible in this month's sky.
Booking is required for this event. While attending, you consent to filming, photography and sound recording which may include you as a member of the audience, and its use in publication or advertising distribution, either printed or online, without payment or copyright.
---
By category
Country visits

Music events