Open Dome Event - Asteroid Day 2017
Date: Friday 30 June 2017
Time: 8 pm – 10 pm
Location: CELS, Nottingham Trent University, NG11 8NS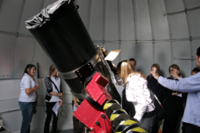 Asteroid day was created 2015 as a group of experts and interested individual including, Martin REss (Astronomer Royal), Brian May and Film Director Grigorij Richters, from 51 degrees North, to raise awareness of the threat asteroids pose to Earth. THe movement is also helping to find asteroids before they find us.
Dr D Brown (NTU) in his talk Asteroids, out to get us will discuss the possible dangers asteroids pose. He will also the present the impact that they have had on Earth and our current thinking. This will be especially addressing the general panic and end of the world cries triggered by close an asteroid fly by.
Booking is required for this event. While attending, you consent to filming, photography, and sound recording – which may include you as a member of the audience – and its use in publication or advertising distribution, either printed or online, without payment or copyright.
---