Maria Graham Project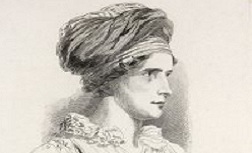 The project aims to re-evalulate the life and work of one of the leading female travellers of the early 19th Century, and to make available to other scholars a number of resources relating to Graham's career.
Maria Graham (1785-1842)
Although now neglected, Maria Graham (in later life, Maria, Lady Callcott) was one of the leading female travel writers of the early 19th century. In the 1810s and 1820s she published accounts of her travels to India, Italy, Chile, and Brazil, and was entrusted by the publisher John Murray with the editing of the published account of George Anson Byron's voyage to the Sandwich Islands. She also wrote extensively in the fields of art history, popular history, popular science, and children's literature.
This site aims to promote further research into Graham's highly productive career. To that end, it makes available a number of resources that may prove useful to literary scholars, historians, and students.
Bibliography of Publications by Maria Graham
Works are given in order of first publication, with subsequent editions and translations listed below each work. Please note that after 1827 Maria Graham published as Maria, Lady Callcott. Links are provided to online editions of the works.
Contemporary Reviews and Notices
Please note that this list may not be fully comprehensive. Underlined entries indicate that the text of that review or notice is available, and may be reached by clicking on that link.
Maria Graham and the Geologists: the Chile Earthquake Controversy
In 1822, Maria Graham witnessed a major earthquake in Chile. She subsequently described the event in her Journal of a Residence in Chile (1824), and also in a short report entitled 'An Account of some Effects of the Late Earthquakes in Chili [sic]'

. The latter account was solicited by Henry Warburton of the London Geological Society, and was published in the 1824 volume of the Transactions of the Geological Society – the first female-authored piece to appear in that journal.
In 1830, Charles Lyell cited Graham's report in his Principles of Geology, using it to support his theory that earthquakes could cause the elevation of landmasses. This theory was opposed by George Greenough, then President of the Geological Society.
In his Presidential Address for 1834

he attacked Lyell via Graham, claiming that the latter's evidence was not reliable.
Greenough's accusations greatly angered Graham (by now, Maria, Lady Callcott, after her second marriage). She quickly wrote a letter to the Athenaeum, rebutting Greenough's criticism. She also organised the publication of a pamphlet which brought together her initial report, Greenough's comments on it, and her riposte to those comments.
The Athenaeum did not run the letter; instead, it published a notice

alerting its readers to the fact that the pamphlet had been produced.
Graham's pamphlet, A Letter to the President and Members of the Geological Society, in Answer to Certain Observations Contained in Mr. Greenough's Anniversary Address of 1834

, was subsequently reprinted in The American Journal of Science and Arts, 28 (July, 1835). It was again reprinted as an appendix to the proceedings of the Geological Society of London, November 1833 to June 1838, Vol. II (1838), following page 706.
Project information
The Maria Graham Project has been undertaken under the auspices of the Centre for Travel Writing Studies at NTU English, and in 2007 it was awarded a British Academy Small Research Grant. The project aims to re-evaluate Graham's life and work, and to make available to other scholars a number of resources relating to Graham's career. The project also aims to shed light on broader topics such as:
women's ability to participate in scientific debate in the Romantic era, and the gendered nature of much contemporary scientific discourse
women's role in this period as educators and disseminators of more specialised forms of knowledge
the intersections between scientific and aesthetic discourses.
In particular, the project focuses on Graham's ability to convert the authority she achieved through her travel writing into a position of acknowledged 'expert' back in Britain, which in turn enabled her to carve out a career as professional writer, reader and editor working 'behind the scenes' on publications with John Murray. In this way, the project also addresses publishing history, and seeks to extend our understanding of the various constraints and opportunities attendant on a female literary career in the early 19th century.
Project Leader: Dr Carl Thompson
Research Fellow: Dr Betty Hagglund
Research Assistant: Esme Coulbert