Advanced Textiles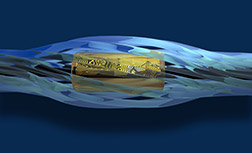 The Advanced Textiles Research Group (ATRG), formed by Professor Tilak Dias in 2010, is a thriving research group at Nottingham Trent University. Nottingham Trent University is a leading institution for advanced textiles research with a global reputation for designing electronically active wearable technology.
The ATRG's research runs along two main topics:
Electronic Textiles and Yarns, focusing on embedding electronic functionality into yarns and textiles. 
Flexural Materials, focusing on advanced knitted and woven structures, elastomeric composites and bio-realistic modelling.
Located in the University's School of Art & Design, the research group works closely with art and fashion colleagues, and has moved and grown within the School since its creation. Professor Dias, who leads the group, has over 35 years of research experience in this area, and has extensive industrial and academic contacts both within the UK and internationally.

The research group's areas of work include:
 Development of smart yarns by embedding semiconductor dice in yarns/fibres
 Advanced knitted and woven structures
 Knitted heated textiles
 Flexible fabric antennas for communication systems
 Electronically-active textiles for medical and automotive applications
 Graduated compression garments for sports and rehabilitation, and the treatment of venous disease and lymphoedema
 Smart knitted structures for active moisture management
 Mimicry of living, biomechanical structures and biological surrogate synthetics
 Surgical, trauma and implant training simulators and phantom modelling

Follow us on Twitter, Facebook and Wordpress
This groups research contributed towards the Advanced Textiles Impact Case Study for REF 2014.
To find out more about Advanced Textiles Research download the brochure
.
For academic enquires and for more information about the research group, please contact the Research Group Leader, Professor Tilak Dias, by email or telephone +44 (0) 115 848 6518.