Young people and politics in Britain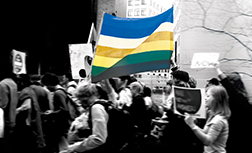 Over the last decade, policy makers have become increasingly concerned that young people are turning their backs on British democracy. This unease has centred primarily on the fact that only 44% young people voted in 2010. Based on a national survey of 1,025 young people and fourteen focus groups, we examine reasons for this generation's apparent rejection of formal political life. We also consider the impact of gender, ethnicity, educational career and social class in shaping their views.
The Young People and Politics project has been awarded funding by the Economic and Social Research Council (ESRC). It has recently been subject to a major evaluation by the ESRC, which concluded that, "(The) research is of strong international quality and strong impact within its field, with publications in leading journals or other academic outlets; and high quality research with evidence of substantial impact on policy and practice".
The research project examines young people's attitudes towards politics in Britain, and considers the widely-held view that today's generation of youth is increasingly reluctant to play a role in political life and is dismissive of the formal political process and democratic institutions. This viewpoint is not new, and the issue of youth disengagement has vexed politicians and policy-makers over the course of the past decade. Indeed, there has been growing anxiety within government circles that, despite attempts to reform the political system and make it easier to access by citizens, the British public - and young people in particular - remain broadly disaffected from politics.
Our study follows on from a national survey completed by one of the researchers in 2002 that investigated the attitudes towards politics held by British 18 year olds. That earlier study identified a significant degree of disengagement amongst young people, of whom only 39% voted at the 2001 General Election. The current study focuses upon a new generation of young people a decade later, and examines whether and to what extent the views and political orientations of today's 18 year olds differ to or mirror those expressed by the young people that we researched in 2002.
Specifically, we consider the following key issues:
young people's levels of interest in, and understanding of, politics and elections
youth attitudes towards democracy in Britain
the degree of faith that young people have in political parties and politicians
the likelihood that young people will take part in differing political activities in the future, including voting at elections
what the political parties need to do if they are to engage young people in the future.
The National Survey
We conducted a national online survey of 1,025 attainers - 18 year olds for whom the UK General Election of 2010 offered the first opportunity to vote in any contest (including any previous local or European elections). The representative national sample of young people from across England, Scotland and Wales was drawn from an online access panel.*
Prior to analysis, the data were weighted to accurately reflect population estimates of gender, ethnicity and region. Data collection took place from 20 April to 4 May 2011, thereby ensuring that respondents had not yet had the opportunity to vote in the Alternative Vote referendum of 5 May 2011.
The survey was designed to measure attitudes towards politics, politicians and democracy, and behaviours including participation in a variety of formal and informal political activities. By collecting data on a variety of socio-demographic characteristics we were able to analyse these attitudes and behaviours against young people from a variety of different groups.
Focus Groups
In addition to the online survey, we conducted fourteen online focus groups during November 2011, with 86 attainers who did not vote at the 2010 General Election. The purpose of these focus groups was to examine what influenced the participants' decisions to self-exclude from the election, and more generally to uncover some of the deeper perceptions and meanings that the young people in the survey attached to politics and political activity.
Through this research, we were able to gain a deeper insight into young people's views and opinions than was possible through the survey alone. For example, while some survey respondents indicated that they strongly disagreed with the statement that "The Government generally treats young people fairly", the reasons behind such feelings could only be fully explored within the more detailed discussions of the focus groups. In this respect the focus groups provided an opportunity to contextualise the data gained from the survey, and supplement that data in very important ways.
The focus groups also allowed the participants to express themselves in their own words-this is important, given that the young people in our focus groups were encouraged to communicate to us their meaning of 'politics', rather than respond to conventional definitions.