Centre for Conflict, Rights and Justice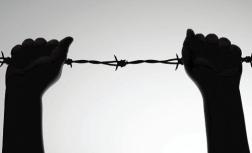 Overview
The mission of the Centre for Conflict, Rights and Justice is to pursue and encourage innovative scholarship in the fields of criminal law, criminal justice, human rights, international humanitarian law, conflict resolution, and post-conflict justice (broadly defined).
We aim to contribute to public and academic debate, and influence the thinking of law and policymakers through publications, seminars, and conferences. We also aim to build and strengthen a vibrant and supportive research culture in which experienced and new researchers alike are able to develop and test their ideas.
News
The Rights and Justice City: Making Nottingham Slavery-Free
Friday 18 November, 7 pm – 8.30 pm
Newton Lecture Theatre 1, Newton Building, Nottingham, NG1 4BU
The Centre for Conflict, Rights and Justice has arranged for an evening event to be held at Nottingham Trent University in collaboration with the University of Nottingham's Centre for Research in Race and Rights on the 18 November 2016. This event will launch Part I in a three-part series for the national Being Human Festival called The Rights and Justice City: Hope, History and Being Humane. Speakers include Kevin Bales, Professor of Contemporary Slavery at the Wilberforce Institute for the Study of Slavery and Emancipation, University of Hull.
The event is free and open to all, please register here.
The Centre for Conflict, Rights and Justice is pleased to announce the Law, Human Rights and Religion: Flashpoints conference will be taking place on Monday 12 December 2016 at Nottingham Law School. For more information, visit the event webpage.
Nottingham Trent University signed a memorandum of understanding (MOU) with Panjab University, India's top university on teaching and research. The MOU marks the beginning of a global partnership which will include research collaborations, faculty and student exchange visits, joint conferences, workshops and schools, and the development of joint academic and research programmes. Nottingham Law School, through its Centre for Conflict, Rights and Justice, will give students from the Centre for Human Rights and Duties at Panjab University, the opportunity to join the popular NLS European Summer School programme. Read more on the news page.
Dr Loretta Trickett has recently completed a study on the policing of hate crime in Nottingham, which was funded by the Nottinghamshire Hate Crime Steering Group. This qualitative study involved interviews with 34 police officers – including those in response roles, beat managers and PCSOs – about their experiences of dealing with hate crimes and hate incidents in Nottinghamshire. The findings revealed that while police officers are clear on what a hate crime is and know the procedures to be followed, their current training does not equip them sufficiently to deal with the more complicated cases.
Dr Trickett suggests that there needs to be a review of how police officers are trained on hate crime. Training needs to be much less "abstracted" from officers' experiences and must take a more holistic and experiential format to enable officers to develop key skills in dealing with a range of hate crime victims.
Dr Trickett will be working with Nottinghamshire Police, Nottinghamshire Community Safety Partnership, the Hate Crime Steering Group, and other organisations – such as Mencap and Victim Support – to improve training on hate crime, and to help develop an electronic resource base for police officers to support them in investigations, to pursue alternative courses of action where necessary, and most importantly, in providing support for victims.
Dr Helen O'Nions was a key contributor to public events during Nottingham's Refugee Week in June 2015 and is currently collaborating on a major European bid to develop a best practice guide for welcoming and supporting asylum seekers.
Dr Samantha Pegg has been commenting widely on the recent "revenge pornography" offence with articles in the local press, The Law Society Gazette, The New Law Journal, and contributions to an article for Cosmopolitan.
Dr Samantha Pegg has also questioned the need for the new offence that criminalises the sending of sexual messages in an article in The Conversation.
Peter McTigue presented a paper on the relationship between people living with HIV and disability at the American Law and Society Association annual conference in Seattle in May 2015. His recent article regarding the European Court of Justice's emerging case law in relation to disability is due to be published in the forthcoming issue of the International Journal of Discrimination and the Law. Peter was also invited to speak as an expert by BBC Radio 2 and Radio Nottingham during the recent general election campaign.
Cat Sjolin-Knight won the Best Research Paper award at the fourth International Conference on Law, Regulation and Public Policy in June 2015 for her paper, presented with F Gerry QC, entitled: Achieving the G20 gender equality target by tackling sexual exploitation through legal uniformity, extra-territoriality and corporate responsibility.
Cat Sjolin-Knight appeared on the Radio 4's Unreliable Evidence programme discussing rape law with the DPP, Alison Saunders; Assistant Commissioner of the Metropolitan Police, Martin Hewitt; and Liberty's Lawyer of the Year 2014 and founder of Justice for Women, Harriet Wistrich (Jan 2015).
Cat Sjolin-Knight appeared on Radio Ulster's Talkback programme (a national phone-in which is on between 12 pm and 1.30 pm each day) talking about the DPP's recently-issued guidance on consent in sexual cases; and on 9 July 2014 was interviewed on child sexual abuse and exploitation on the Today programme on Radio 4 (Jan 2015).
Tom Lewis presented an invited paper on broadcasting bans on political advertising to the Media Freedom and Regulation in the New Media World Conference in Budapest on 24 April, 2015, commissioned by the National Media and Infocommunications Authority of Hungary and the Media Studies Research Group of the Hungarian Academy of Science. Watch and listen to Tom's paper and other papers at the conference.
Helen O'Nions' book, Asylum: A Right Denied has recently been published (2014 Ashgate).
Recent events
Human Rights, Law and Religion: Perspectives on the Islamic Face Veil (seminar)
Sporting Justice Conference
research forums
launch of the Centre for Conflict, Rights and Justice
Find out more about our recent events by visiting the projects tab.