Brackenhurst Campus has a proud agricultural heritage and has developed into a thriving specialist science department within NTU.
Now leading the way in modern environmental sciences we have forged links with institutions around the world to tackle global issues of sustainability, climate change and conservation.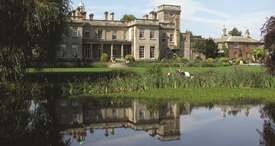 Did you know?
NTU has been named as the most environmentally friendly university in the UK in a national league table (People & Planet Green League 2016)
95% of our students would recommend studying here (National Student Survey 2016)
NTU have invested close to £350m in estates, equipment and staff 
NTU's Environment Team have achieved the EcoCampus Gold Award for all three campuses
96% of our undergraduates are employed or engaged in further study six months after leaving. (DLHE 2015/16)
Join our alumni community and annual reunion.
Since I have been at NTU, I have felt so welcome and part of such a great community. I really love my course!
Mikaela Ogilvie, Equine Sports Science BSc (Hons) Year One