Children's University

About us
About us
The Children's University recognises and rewards the learning and activities that children take part in outside normal school hours and is open to children aged 7 to 14 if their school has signed up to the scheme. Participation in the Children's University is voluntary.
Children receive a Passport to Learning from their school and they can collect credits for each activity they take part in. Credits can be given for taking part in learning experiences and activities at after school clubs, sports clubs, museums, activity centres, and music groups. This learning doesn't need to be purely academic - often it is focused towards developing the skills that may help children go to university in the future and many of the activities link with university subjects.
If children gain 100 credits they will be invited to attend an awards ceremony at Nottingham Trent University. Please see the Awards page to find out how many credits you need for each award.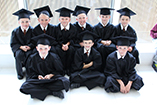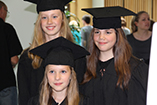 Want to contact us?
Children's University Team
Children's University Nottingham and Nottinghamshire
Nottingham Trent University 
Schools, Colleges and Community Outreach
Shakespeare Villas
Shakespeare Street
Nottingham
NG1 4FQ
Telephone: 0115 848 2321
Email