Current students

News and events
Will you runNTU?
Tuesday 13 March 2018
Registration for this year's runNTU is now open, so grab your running shoes and help us crack the cancer code!
Graduation Info Days
Monday 12 March 2018
There will be three graduation information days held at City, Clifton and Brackenhurst Campus. This gives final year students that are graduating this summer to meet with the graduation team, graduation suppliers and the Alumni team.
Older NOW Learning Rooms are being archived
Tuesday 6 March 2018
Learning Rooms older than four academic years are being removed from NOW in early March.
Find out about upcoming events at NTU.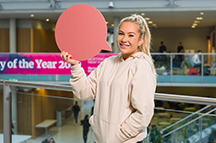 influenced change! We listen to your feedback and make improvements across NTU that will have a positive impact on your student experience.
Find us on Facebook, Twitter, Flickr, YouTube and more.
Check out the video below to hear from Professor Edward Peck, your Vice-Chancellor.