Current students

News and events
Free £5 printing credit – complete the National Student Survey
Monday 15 January 2018
Final year undergraduate students – complete the survey and get £5 printing credit and entry into a £250 prize draw*. It only takes ten minutes and is an opportunity to voice your opinions about the quality of your course and time here at NTU.
New Year, New You!
Monday 8 January 2018
Turn your New Year's resolution into a reality with the NTU Sport membership offer. If you are wanting to achieve fitness goals, shape up for summer, or just get back into the gym, you can for just £75!
NTU City Print Shop - extended opening hours for Term Two
Thursday 4 January 2018
Due to popular demand, NTU City Print Shop are extending their opening hours from Monday 22 January - Friday 26 January and from Monday 26 March – Thursday 29 March.
Find out about upcoming events at NTU.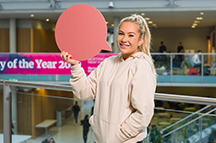 influenced change! We listen to your feedback and make improvements across NTU that will have a positive impact on your student experience.
Find us on Facebook, Twitter, Flickr, YouTube and more.
Check out the video below to hear from Professor Edward Peck, your Vice-Chancellor.