Equality, Diversity and Inclusion

Member profiles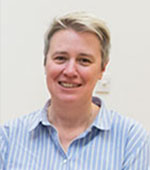 Michaela Borg
My name's Michaela Borg and I'm Educational Development Manager in the Centre for Academic Development and Quality (CADQ). I've worked at NTU since 2009. CADQ is a great place to work, my colleagues are open-minded and non-judgemental; as an openly bisexual woman it's important that I am able to be myself in the workplace. I became a member of the LGBT+ Network because I want to contribute to developing awareness of the diversity of our community and to engage in a constructive dialogue about this. Recent world events have really brought home the message that however far we've come in terms of tolerance and openness, challenges remain.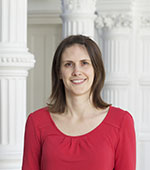 Claire Brown
I'm Claire Brown and I've worked at NTU since 2015 as a Strategy Implementation Manager. I haven't always been as open and 'out' as I am now and it's not an easy thing to do. I used to be embarrassed to come out to new people, especially in group situations. I still don't find it easy but I grit my teeth and do it! So to have people around me that are inclusive and accepting of difference is really important.
I'm involved in the network because I want to help make positive changes that will benefit the LGBT+ community here at NTU and hopefully be a role model to others. My partner and I had a son in October 2016 and I want him to grow up in a society that in tolerant and respectful. I feel we all can play a small part in making this a reality.
Even though there is always more than can be improved, I feel lucky to work in the sort of open-minded environment I think NTU has. I think visibility is really important and I now wear my rainbow lanyard with pride!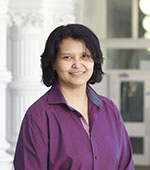 Aldilla Dharmasasmita
I'm Aldilla Dharmasasmita, an Academic Associate with NTU Green Academy and a PhD student at Nottingham Business School (NBS). In my spare time, I also teach at NBS, focusing on Business Ethics and Sustainability in Business. When I first started working at NTU, I was only out to colleagues I felt close with. Gradually, I became more comfortable being 'out' when I realised that I am safe working here.
I identify myself as a Muslim AND a lesbian, a combination that many couldn't comprehend, including myself initially. Gradually, I realised that whilst one is a choice (although I was born into it), the other isn't. After a lot of hard work, with some 'work-in-progress' still, I've learnt to accept reality, and eventually, love myself for it.
I'm involved in the network because I want to be able to have a positive effect on what it means to be LGBT+ as well as part of an organised religion. It is up to us to make this world liveable, not just for a selected few, but for everyone, regardless of their sexuality and gender. This is my tiny contribution towards that.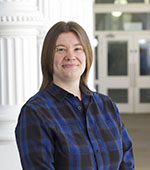 Emma Duncan
I'm Emma Duncan and I have worked in NTU's Libraries since 2004, currently as an Information Assistant in the Resource Acquisition and Supply Team. This was the first workplace that I ever felt I could be comfortably out and open about my sexuality, and I could finally stop avoiding pronouns when talking about my girlfriend! My library colleagues have never made me feel anything less than equal and valued. When I shared with them that my long-term partner was transitioning to live as male, I was overwhelmed by the love and support they demonstrated to us both.

As my identity as a queer woman evolved, I realised that I had been taking some things for granted. In joining the LGBT+ Network, I wanted to engage with our community, educate myself and others, and develop myself as an ally to other marginalised groups.