Graduation

Prepare for graduation
Registration for Graduation 2018 will be opening in Term two. Look out for your email when this is available.
It's important you are properly prepared for your Graduation, after all, it is the day you've been waiting for since arriving at NTU!
You can find everything you need to prepare in advance within the left hand tabs. You can also check out our handy checklist to ensure you've ticked all of these off before your ceremony. Make sure you take note of your ceremony start time and date before you register.
Please note: Wearing of gowns is compulsory. Students attending graduation must order their gown and hood.
Dress code: Formal 
To attend Graduation, you need to ensure all your debts are cleared by Thursday 21 June 2018.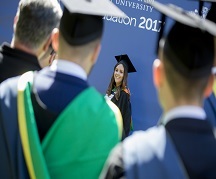 Buy Graduation gifts