Nottingham Business School
Accounting and Finance
Courses
View our range of undergraduate and postgraduate courses.
Overview
We are a well-established large international team of colleagues, from diverse backgrounds in industry, professional practice and academia. Our department offers a range of courses at undergraduate, postgraduate and professional level, which contain a unique blend of both theoretical and practical perspectives on the disciplines of Accounting and Finance. We also support other Nottingham Business School courses by providing Finance and Accounting input tailored to non-accounting participants.
Our department has a longstanding national and international reputation for producing employable, adaptable graduates. A key part of the support we provide is the wealth of professional accounting experience that our lecturers bring to the teaching of their respective specialisms.
We work closely with employers and alumni within the accounting profession and across all sectors of the economy in design and delivery of educational and training opportunities. A programme of lectures and workshops by visiting practitioners and academic colleagues enhance the subject health and practicality for our students. From this experience we are also able to generate quality internships for undergraduates together with research and consultancy opportunities for postgraduates and staff.
Our BA (Hons) Accounting and Finance degree allows students to gain significant exemptions from accountancy professional body examinations.
We are a recognised centre of excellence for the teaching of the Chartered Institute of Public Financial Accountants (CIPFA), and have a strong presence in delivering courses to the public sector. We consistently achieve the very highest of pass rates and prizes and our course tutors have won awards from CIPFA in recognition of the quality of the tuition they provide. Many of our staff are active researchers, publishing in the areas of Public sector Finance, Corporate Governance, Oil and Gas accounting and Finance in general.
Staff profiles
For staff members please see the academic staff section.
Related external links 
Contact

Head of Department
Department of Accounting and Finance
Nottingham Business School
Email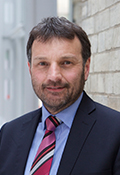 Martin Jones
Head of Department
---