Nottingham Business School
Management
Courses
View our range of undergraduate and postgraduate courses.
Overview
The Management Department is one of the five academic department of Nottingham Business School. There are 36 permanent staff in the department as well as a number of visiting faculty who bring their own specialist knowledge and experience to the work of the department. 
Management is a broad subject area and this is reflected in the range of expertise within the department. The primary subject specialisms within the department are Entrepreneurship, Information Systems, International Business, Operations Management and Strategy. We also have specialists in Financial Services, Innovation Management, Public Sector Management, Quality Management and Sustainability. Tutors in the department have experience of business and expertise in their subject area. The international nature of the department is reflected in the fact that a third of the department are from outside the UK and several others have considerable experience of working abroad.
The work of the department includes teaching on undergraduate, postgraduate and corporate courses as well as supervising doctoral students and cutting edge research. We deliver a large proportion of the modules on the Nottingham Business School BA International Business, BA Business Management and Entrepreneurship, and MSc International Business courses. As part of this work we have a continuous improvement approach to our teaching, seeking to enrich the academic experience of our students.
Related external links
Management
Financial Services
Information Systems
Innovation Management
International Business
Operations Management
Public Sector Management
Quality Management
Sustainability
Staff profiles 
For staff members please see the academic staff section.
Contact
Dr John Buglear
Head of Department
Department of Strategic Management and International Business
Nottingham Business School
Email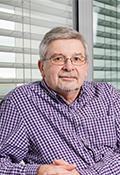 John Buglear
Head of Department
---