Nottingham Business School
Personalisation
Personalisation is embedded into the fabric of every course at Nottingham Business School, putting you, the student, at its core! You'll develop your own individual student journey, supported by your mentor, to achieve your full potential in your studies and future career.
What is Personalisation?
We recognise that each student is different, you each have your own aspirations and goals, different passions and thrive in varied environments. Our aim is to provide you with all the opportunities you need to give your CV the edge over others in the job market, boost your career prospects, and take away the skills and experience you want from your time at university. At Nottingham Business School it's all about you. We'll work with you to personalise your university experience and realise your goals.
The framework of Personalisation has been defined as a multi-dimensional tailoring of your total educational experience across four axis: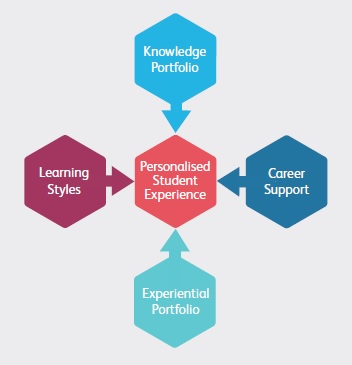 It's about supporting you to understand your needs through the use of diagnostic tools, and to design and implement an approach to learning that is personalised to you.
How does it work?
You will be assigned your own Academic Mentor who will help you set out your personal objectives and create your own development plan.
During your personalisation journey, depending on your level of study, you will be able to get involved in a range of opportunities, such as placements, internships, study abroad, volunteering, business games, and competitions.
There are loads of different options available to you depending on your degree:
What do our students say?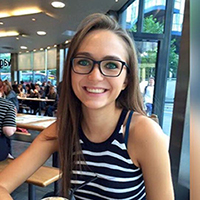 "The personalisation is part of the course and acts as a 'skills builder' for students to make them think about what THEY want out of the course and their time at University. I attended a lot of extra-curricular activities advertised on FutureHub and I am on the exec board for EnactusNTU which gives me a lot of valuable skills to use for my placement applications.
I took part in study abroad and managed to get work experience in Chicago, organising and leading a restaurant tour for a corporate restaurant chain. It was great experience to be working in a professional environment amongst lots of corporate companies and gave me valuable organisational and communicational experience.
Personalisation is a good way to get you thinking about life after university. They allow you to explore different career paths alongside your course and build skills and work experience. It has been a great experience and I probably would never have found out about available opportunities like EnactusNTU."
Abigail Sheppard, BA (Hons) International Business. 
Through our personalised approach to learning, we will provide you with a uniquely individualised experience to help you be the best you can be.
Realise your true potential at Nottingham Business School and remember 'it's all about YOU'
Follow us on Twitter @NBSAllAboutYOU