Nottingham Business School
Profiles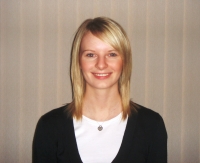 Jenna Whittingham
Course:  BA (Hons) Business Management (In-company)
Placement Employer: Boots the Chemist - Head Office
Placement job title: Expert Assistant Brand Manager
"My placement was at Boots the Chemist - Head Office, where I was employed as an Expert Assistant Brand Manager. It was an interesting and varied placement where I was given the opportunity to take on a series of different roles.
"I acted as Assistant Supply Manager in the Baby line, team leader at the Victoria store, Nottingham – which is one of the largest in the country – and finally I was stationed as Marketing Assistant for the Nutrition area. Across all three roles, I was able to put into practice a range of skills from stock control and management to branding, supervision of staff, marketing and packaging.
"Throughout the year, I received a great deal of support from Boots in the way of mentors and buddies, as well as the large network of people from my course. NTU also provided a mentor who visited us at our placement and kept in contact throughout.
"I enjoyed being able to rotate roles, it gave me the opportunity to try out jobs that I wouldn't necessarily choose (such as in-store), but this way you end up getting a vast amount of development from the whole experience. It has given me a real advantage over other business graduates and prospective employers have been impressed with the level of experience already obtained.
"Undertaking a placement year shows you are willing to learn and aren't afraid to try new things, it really does help you get an idea of what career you would like in the future. Prior to choosing your placement, you should research the company and roles properly and ensure it is what you want. Also use the University; they have vital links with organisations which can really help you."
Lucy Woodhouse
Course: BA (Hons) Business Management and Marketing
Placement Employer: IBM
"I found out about NTU through the prospectus. Following this I visited the University with my parents and a member of staff happily showed us around the building which was very encouraging. The people were more friendly and outgoing in comparison to other universities I had visited.
"The course really appealed to me because I could spend a year in industry and I was keen to get hands on work experience. Also, the fact that you can specialise in a route of your choice was very appealing.
"From studying at university I have learned many new skills including time management, team working and presentational skills. This year I was able to present research findings to an audience, which was assessed. This has given me confidence to take part in presentations during my placement year at IBM.
"Gaining a placement at IBM has been my best achievement so far. This wouldn't have been possible if the university staff had not arranged for various workshops and events with the many companies which I am grateful for. I found the placement support very useful in checking my CV and reading through applications as it is always good to have someone who knows a lot about it to proofread it for you.

"Tutors at the University are all available via email which makes contact a lot easier even if you just have a quick question to ask. I have not had any problems getting in touch with my tutors this way and recommend students take full advantage of it as it makes day-to-day life more efficient.
"If you're not sure which area of business you want to specialise in then this is the right course for you, as I originally wanted to do purely HRM and doing all areas in the first year made me realise that marketing was a lot more suitable for me."