Organisational Development

Events
Our events
We offer a wide variety of open events to support you in your role at NTU. Drawing on four main areas of expertise; Academic Practice, Digital Practice, Leadership and Professional Practice and Researcher Development our events are:
responsive to identified needs
evidence-based and research-informed
aligned to the University's strategy
Explore our current schedule of events and Book a Place or view our previous events.
Our new Researcher Development Brochure features information on workshops and events for the research community, including postgraduate research students, early career researchers and staff doing research at NTU.
If you would like more information on one of our open events not currently scheduled, drop us an email at OrgDev@ntu.ac.uk for further information.
Induction
Organisational Development host the Vice-Chancellor's Welcome event three times a year. All new starters should receive an invite to attend, alternatively you can book a place directly.
Induction resources for all staff, are accessible through 'Your NTU – Induction Learning Room' available through NOW. In this Learning Room you will find information for reference not only in your first weeks but also throughout your employment at NTU.
Can't find what you are looking for?
If you have a specific development or learning need not supported through our open events, you can make a bespoke request through our consultancy service.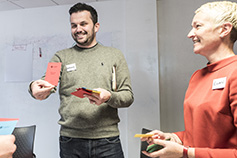 Contact us
We are happy to have a chat with you or answer any questions you may have about our service.
 
Drop us an email at OrgDev@ntu.ac.uk or give us a call on 0115 848 6535.