Organisational Development

How can we help
Organisational Development
Our mission is to support NTU's strategic ambition; creating the university of the future. Using holistic, people centred approaches, we will work together with you to:
build collaborative, responsive leadership, through innovative development solutions
advance excellence in teaching and research, by developing expertise within NTU
enable the university to transform through digital capabilities
We promise to partner with you in a spirit of curiosity and innovation to deliver the whole solution, not just part of it.
 
In addition to our open events and online resources, we provide a consultancy service that will work with you to develop bespoke learning support.
 
We are keen to develop proactive collaborative relationships with managers and leaders throughout the university. The team is happy to talk with you about your needs and work alongside you to implement the most effective solution.
Bespoke support: the whole solution, not just part of it
We focus on development and learning for the organisation, team and individual.
We welcome bespoke requests and the opportunity to work in partnership with you to co-create the most effective solution for you and your team.
Find out more about how you can request a bespoke service.
Contact us
We are happy to have a chat with you or answer any questions you may have about our service.
Drop us an email at OrgDev@ntu.ac.uk or give us a call on 0115 848 6535.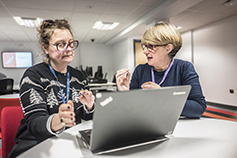 Events
Visit our Events page to book a place on one of our scheduled events.
For supporting policies, including the Learning and Teaching Professional Development Policy and Time to Train, please visit eCentral.