Science and Technology

The School of Science and Technology is an exciting multidisciplinary environment for learning, teaching and research.
We specialise in Physics, Mathematics, Biosciences, Chemistry, Forensic Science, Sports Science and Computing and Technology. This mix of traditional and modern science subjects encourages and inspires our future innovators.
We have some of the best laboratory facilities in the UK. Take a look at our facilities and equipment.
Research excellence results celebrated by University
Staff in Biosciences, Biomedical Science, Computer Science and Mathematics are celebrating the news that the impact of almost all of their research has been recognised as 'world leading' or 'internationally excellent', and staff in Chemistry and Physics are delighted that 95% of their research outputs were judged as 'world leading' or 'internationally excellent', in the latest Research Excellence Framework (REF 2014).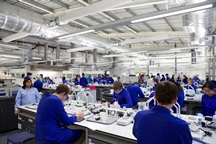 Take our digital tour and see our amazing science facilities. Find out more about our teaching and hear from current students.
See what current students and graduates think about their course and NTU.