Sustainability

About us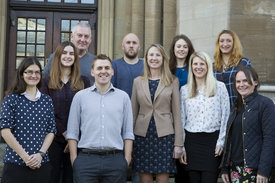 The NTU Sustainable Development Team (previously the Environment Team) are there to ensure that the University operates as sustainably as possible, with an annual budget to implement sustainability projects and raise awareness amongst students and staff. The core team manage a huge variety of projects, from biodiversity on campus to student engagement schemes such as Fairtrade Fortnight and the Foodshare allotment. Find out what each team member does.
If you want to make contact with a member of the Sustainable Development Team or key contacts from associated teams, you can find their details in this section.
The University has made a commitment to reducing its carbon footprint and minimising waste. Working together as a university community, we will strive for excellence in environmental sustainability.
Nottingham Trent University former Vice-Chancellor, Professor Neil Gorman
Find out the latest about environmental developments and activities around the University.
The Green Academy is a permanent department working to engage students with sustainability through the curriculum and extracurricular activities. 
Find out more about what we do.