Sustainability

Green Impact
Green Rewards is an online platform designed to embed sustainability across the entire workforce at NTU. Through Green Rewards, employees are able to track their positive actions across six key themes:
My Carbon Footprint
My Resources
My Travel
My Food & Drink
My Community
My Health & Wellbeing
This is in recognition of the University's belief that positive lifestyle choices are fundamental to us achieving our sustainable, environmental and wellbeing ambitions. The programme demonstrates the strategic importance we place on sustainable and wellbeing choices we all make, and we hope it will inspire colleagues to work together in a fun and engaging way.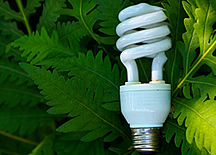 Helping our staff to have a positive impact on a global scale
Each activity theme also aligns with one of the United Nations' Sustainability Development Goals (SDG's), allowing participants to understand their positive impact on a global scale as well as at an individual and University level. For example, employees are rewarded for using reusable bottles and reusable cups instead of single use plastics, contributing to SDG12 – Responsible Consumption and Production.
Find out the latest on sustainable developments and activities happening around the University. You will also find information on how you could get involved in events and campaigns that are running, which could help you to earn points through Green Rewards!