Academic Development and Quality

Experimental teaching rooms
To support active learning approaches at NTU, we have introduced a number of experimental teaching spaces which pair reconfigured layouts with integrated technology. The TeRCo, Node and SCALE-UP rooms are designed to promote interactivity and foster discussion and peer learning.
These spaces are ideal for group tasks and other sharing activities, and lend themselves particularly well to problem-based and enquiry based learning. The rooms are also well suited for colleagues who wish to flip their teaching such that the traditional lecture is replaced by out-of-class preparation and in-class group work. Colleagues are encouraged to experiment with the space and equipment in the room to find learning approaches which suit their students' needs, the subject, and their own teaching style.
Learning spaces
Principles have been devised by the TILT Learning Spaces Group to inform the design, delivery and operation of learning spaces at NTU. Learning spaces are those spaces used for teaching (e.g. classrooms) and those for independent study (e.g. library study spaces).
Learning spaces framing principles
Support and further information
Do you work at NTU?
Have you been timetabled into one of these rooms and would like some support? Email us.
While some of these rooms are zoned to particular Schools, if you would you like to teach in one then please do get in contact and we can advise you on possible options.
Do you work at another University?
If you are from another university and interested in our work, then contact Michaela Borg for more information.
SCALE-UP teaching rooms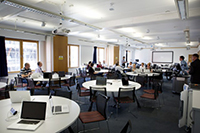 Boots: 327a, 327b, 328; DICe S104c, S105c, S108; Chaucer 2604
Clifton: CLB104; CTBP04, CTBP05, CTBP06, CTBLT2
These rooms, in Boots and DICe (City Campus) and CLB (Clifton Campus) are designed for SCALE-UP teaching. They feature round tables that seat nine students who work in groups of three. Each group of three has access to a laptop, and students are able to project their work onto the screen in the room.
For further information please view the SCALE-UP tab.
Technology-rich, collaborative (TeRCo) rooms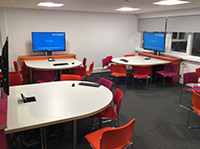 Chaucer 2704, 2706; DICe S109B
The TeRCo rooms feature group-work tables, each equipped with integrated IT and presentation capability. They are ideal for student activities that involve, for example, collaborating on documents or presentation materials, and finding or producing online materials.
For further information please view the TeRCo tab.
Node teaching room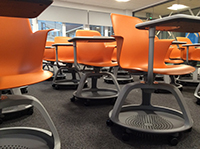 Chaucer 2705
This room is equipped with node chairs. These highly mobile chairs, with built-in table and storage, create a flexible space in which the transition between different layouts is quick and easy. This space lends itself to a varied teaching approach which incorporates frequent transition between pair work, group work and plenary discussion or other configurations.
For further information please view the Node tab.