Distinguished Lecture Series: Professor Ronald Hutton
Britain's Pagan Heritage
Date: Wednesday 11 November 2015
Time: 6 pm - 7.15 pm
Location: Newton building, Main Entrance, Nottingham Trent University, NG1 4BU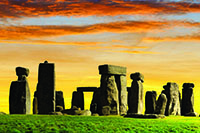 Ronald Hutton is Professor of History at the University of Bristol.
He is the author of fifteen books and seventy-four essays on different aspects of history, mostly British.
For more details about Professor Hutton, please download our online brochure.
Lecture synopsis:
Britain can claim to possess the richest and most diverse collection of physical remains of pre-Christian ritual and religion of any part of Europe.
This lecture looked at these remains and posed the question of how far it is possible to recover the beliefs which inspired their creation, and the implications of the likely answers to that question. It did so with particular reference to the world's most famous prehistoric monument, Stonehenge, and one of the most famous physical objects to survive from pre-Christian Britain, the bog body known as Lindow Man.
---