Ig Nobels - A celebration of science 2017
Date: Wednesday 15 March 2017
Time: 6 pm - 8.30pm
Location: Lecture Theatre 2, Newton building, Main Entrance, Nottingham Trent University, NG1 4BU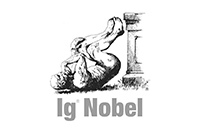 The Psychology Division within the School of Social Sciences at Nottingham Trent University are delighted to welcome Ig Nobels – A celebration of science on Wednesday 15 March.
Ig Nobels – A celebration of science
The Ig Nobel Prizes honour achievements that first make people laugh, and then make them think. The prizes are intended to celebrate the unusual, honour the imaginative — and spur people's interest in science, medicine, and technology.
The awards are held each year at Harvard University and each award is presented by a Nobel laureate such is the esteem of this event. Over the past few years Marc Abrahams has brought an Ig Nobels tour to the UK in the spring. The tour highlights some of the key awards from the Ig Nobels' back catalogue and provides a great opportunity to promote science to a wider audience. 
Details of their UK events and more information about the Ig Nobels can be found on their website.
This year's programme will include: Elizabeth Oberzaucher, winner of the Mathematics Prize for trying to use mathematical techniques to determine whether and how Moulay Ismael the Bloodthirsty, the Sharifian Emperor of Morocco, managed, during the years from 1697 through 1727, to father 888 children.
Minna Lyons, who won the Psychology Prize for amassing evidence that people who habitually stay up late are, on average, more self-admiring, more manipulative, and more psychopathic than people who habitually arise early in the morning.
Finally, Speed bumps are a commonly used traffic calming device to reduce the speed of vehicles. Although controversial, these measures have been associated with a 70% decrease in injuries among child pedestrians. However, we discuss how speed bumps may have a useful alternative benefit in the diagnosis of acute appendicitis. 
Book your place
The event is free but booking is essential. To book your place(s), please click on the Add to basket button above and complete the short online booking process. 
If you have any questions regarding the event, please contact the conference organiser. 
---