Enabling Innovation: Building a World Leading Export Business
Enabling Innovation Insight Breakfast
Date: Wednesday 17 May 2017
Time: 8 am - 10 am
Location: Vision West Nottinghamshire College, NG18 5BH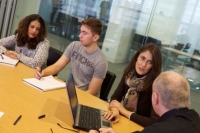 Malcolm Hall MBE is the founder and managing director of Hall-Fast Industrial Supplies, a multi-award winning company established in 2006. Eleven years on Hall-Fast is one of the fastest growing and most successful in its sector. This success has largely been as a result of Malcolm's pioneering approach to export which has capitalised on the power of digital to grow markets internationally. Hall-Fast export over 200,000 products to 92 countries.
In this unique insight into Hall-Fast's incredible success story, Malcolm will share his hints and tips for any business wanting to expand overseas. He will bust some of the myths surrounding international trade and encourage local SMEs to dip their toe in the waters of international expansion.

Malcolm will return later in the year as part of a master class session on export when he teams up with UKTI. For more information about Hall-Fast visit their award winning website at http://www.hall-fast.com/

This event is free to attend, but attendees must register in advance. In order to attend this event you must be eligible for support from the Enabling Innovation Programme, which supports SMEs in Derbyshire and Nottinghamshire.

Enabling Innovation is a three-year collaboration between Nottingham Trent University, the University of Nottingham, and the University of Derby to support SMEs in Derbyshire and Nottinghamshire to innovate. It is part-funded by the European Regional Development Fund (ERDF).
---