Developing Our Supply Chains and Supporting Growth in SMEs
An event for local SMEs
Date: Tuesday 23 May 2017
Time: 8:30 am - 11 am
Location: Newton building, Nottingham Conference Centre, Nottingham Trent University, NG1 4BU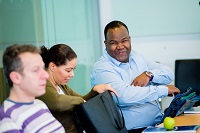 Are you a local current supplier to Nottingham Trent University, or are you interested in becoming a supplier? Do you want to find out more about how working with Nottingham Trent University can support your business to grow and develop? Then this is the event for you. Join us at Nottingham Conference Centre for a business breakfast event specially for Derbyshire and Nottinghamshire's small and medium businesses.  
Our free event covers the following topics:
Procurement:
Hints and tips for how to become an NTU supplier
Future tenders and opportunities
Open to the floor - what are the challenges of doing business with a university as an SME?
Choose from three breakout sessions, namely:
Enabling Innovation
Offering free support to local SMEs, helping you grow and become more competitive. Access NTU's knowledge, resources and facilities for free through this ERDF funded project. To explore Enabling Innovation's offer now, please visit our Enabling Innovation pages.
The Big House
The Big House provides bespoke support for the local creative and digital industries. Helping you expand and bring new products and services to market through grants, coaching, and more. To explore The Big House now, please visit our Business start-up support pages on the Hive website.
Ethical Procurement
Ethical Procurement is everyone's responsibility. Hear about how NTU Procurement are committed to acting ethically and the expectations for our supply chains.
Join us to network with other local businesses, speak with members of our Procurement team and learn about the wider support offered by NTU academic and business experts. Only eighty places are available so reserve yours today.  
For more information about working with Procurement at Nottingham Trent University, please visit our Procurement pages..
---