Hysteria @ LiSTEN iN
Dates: Monday 30 January 2017 - Friday 17 February 2017
Time: 9 am – 6 pm (weekdays only)
Location: Bonington Atrium , Bonington building, Nottingham Trent University, NG1 5LS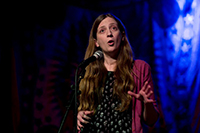 LiSTEN iN is a new exhibition space for hearing unique sound works in the Bonington Atrium on the Nottingham Trent University City Campus.

Presenting works from NTU students, and local and international artists, LiSTEN iN has recently hosted The Green Man, Heather Hodkinson, NTU Fine Art; GIMP, Amelie Duchow; Nottingham Music Scene Showcase, Rob Squirrell and I'm Not From London, as well as clever art muso offerings from the minimalist female drum duo Rattle, and Church of the Cosmic Skull, with their killer rock debut 'Is Satan Real?'
Hysteria is an exhibition of audio works focusing on female bodies, personal preference, and the examination and subversion traditional femininity. Written and performed by poet Leanne Moden, Hysteria discusses topics as divergent as gender stereotyping, friendship, rivalry, anxiety, and self-esteem. From Twitter feuds and New Year's resolutions to musings on infinity and an affectionate ode to pubic hair, Leanne's work is frank, funny and a little bit philosophical.
For more information and enquiries please visit event page on Facebook.
About Leanne Moden
Leanne Moden is a poet from Norfolk, now living in Nottingham. She's performed all around the UK, including events at the Royal Albert Hall, Manchester University and Trinity College Cambridge, and festivals like Aldeburgh Poetry Festival, the Cambridge Festival of Ideas, and Bestival on the Isle of Wight. In the past, Leanne has been shortlisted in the Camden Roundhouse Slam, the Hammer & Tongue National Slam, and the Poetry Rivals Slam. She was Fenland Poet Laureate in 2013, and she currently hosts the Crosswords Spoken Word Open Mic in Nottingham. Leanne's latest pamphlet, Liaisons, was published by Stewed Rhubarb Press in January 2015, and this year she's working on her debut spoken word show, Skip, Skip, Skip.
---