Exhibition: You're Gonna Need a Bigger Boat
Dates: Wednesday 19 April 2017 - Friday 19 May 2017
Time: Monday – Friday, 10 am – 5 pm; Saturday 13 May, 11 am – 3.30 pm
Location: Bonington Gallery, Bonington building, Nottingham Trent University, NG1 5LS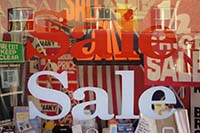 Curated by photographer Jason Evans, this new exhibition brings together artefacts from our industrial, consumer society. Handmade signage recalls local commerce, pre-globalisation, and highlights ongoing transitions from analogue to digital. Some of the objects on show remain in circulation today, yet serve as a nostalgic reminder of the technological changes in our recent past.

The exhibition features pages from the archive of Dick Hambidge, a sign writer from East Kent, who documented his works in meticulous photographic albums, presenting an alternative record of provincial life.

Also on show is a selection of erudite political 'lampoons' by Ditchling printmaker Philip Hagreen. His wood engravings feel as relevant now as when they were published eighty years ago.

Visitors will be able to see an intriguing selection of original items from Clark Brothers of Manchester, who continue to hand produce point-of-sale marketing materials for a disappearing High Street.

Finally, the exhibition will also feature a selection of locally relevant material, an interactive photo opportunity, social media content, a marketing soundtrack and a new series of Evans' own binary screen prints.
Preview event
Thursday 13 April, 5 pm – 7 pm. Please RSVP to confirm your attendance.
Enquiries
If you have any questions about this event, please email us or call +44 (0)115 848 8268.
This exhibition is hosted by Bonington Gallery. To find out more, visit the Bonington Gallery website .
Image: Jason Evans, Clark Brothers of Manchester, 2016
---