Art and Design Degree Show: Industry Launch Event 2017
Date: Friday 2 June 2017
Time: 3 pm – 6 pm (booking required)
Location: Arkwright, Barnes Wallis, Bonington, Newton and Waverley buildings, City site, Nottingham Trent University, NG1 4BU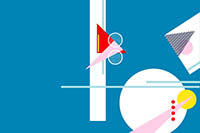 Nottingham Trent University's (NTU) annual Art and Design Degree Show is one of the largest exhibitions of work by graduating artists and designers in the UK.

The 2017 event will unite the creative force of just over 1,200 final year students in subjects spanning visual arts; visual communication; fashion, textiles and knitwear design; fashion management, marketing and communication; architecture; and furniture and product design.
Our Industry Launch event is a great opportunity for industry professionals to be the first to view the exhibition and meet our graduating students with their work.
6 pm – 9 pm: Industry attendees are welcome to extend their visit and join the student celebration evening during the second part of the opening event.
Degree Show pocket guide
Download your copy of the Degree Show pocket guide. Alternatively, you can pick up a copy at any of the exhibition entrances.
Keep up to date
You can keep up to date with the Degree Show work in progress, by visiting the specially created online social media hub or by using the hashtag #NTUDegreeShow.
Reserve your place
Please select 'Add to Basket' at the top of the page and complete an online booking form.
Touring shows
Many of our students will also be exhibiting in London at a number of influential graduate design exhibitions and events in June and July.
From fashion to photography, graphics, costume and theatre design, textiles, furniture, product design and interior architecture, find out where they will be this summer!
View the Nottingham events
View the London events
Enquiries
For all enquiries about this event, please email us or call +44 (0)115 848 8268.
Images: Georgia Harvey, BA (Hons) Textile Design 2017; Jack Green, BA (Hons) Furniture and Product Design 2017, photographed by Rory Fuller, BA (Hons) Photography; Iced Bun, Alice Harrison, Jay Harris, and Rosie Spence, BA (Hons) Fashion Communication and Promotion 2017, photographed by Lauren Mustoe.
---