Fashion Design Catwalk Shows and Exhibition (8 pm show)
Date: Thursday 25 May 2017
Time: 8 pm – 10 pm
Location: Newton building, Main Entrance, Nottingham Trent University, NG1 4BU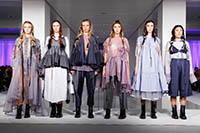 Be the first to see the latest work by our final year BA (Hons) Fashion Design students, as they present their final collections to the public in a special catwalk show.

This show is accompanied by a product exhibition of work by BA (Hons) Fashion Design, and BA (Hons) Fashion Accessory Design students.
Industry and press tickets
Fashion industry professionals wishing to receive a priority ticket for the catwalk show, please email us and specify your:
name
company name
number of tickets
Tickets for schools, colleges, and the general public
General tickets for the NTU catwalk show are available from EventBrite.
Please note this is a ticketed event. Tickets are non-refundable and non-transferable between shows.
Ticket prices:
Seated: £10
Concession seated: £8
Standing: £6
Tickets are also available for the:
Fashion Design Catwalk Show on Thursday 25 May at 6 pm - buy ticket(s)
Fashion Knitwear Design Catwalk Show on Wednesday 24 May at 8 pm - buy ticket(s)
#NTUDegreeShow
This event is part of the Art and Design Degree Show. Take a look at the full line-up of events on the #NTUDegreeShow website.
Keep up to date
You can keep up to date with the Degree Show work in progress, by visiting the specially created online social media hub or by using the hashtag #NTUDegreeShow.
Enquiries
For all enquiries about this event, please email us or call +44 (0)115 848 3778.
---