Preview: Mastered
School of Art & Design Masters Exhibition
Date: Tuesday 18 July 2017
Time: 5 pm – 7.30 pm
Location: Bonington Gallery and Atrium Space, Bonington building, Nottingham Trent University, NG1 5LS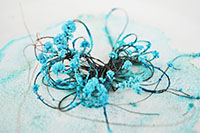 A special evening preview of Mastered, an exhibition showcasing the innovation and creativity of the Masters students graduating from Nottingham Trent University's School of Art & Design.

This end of year exhibition features the creative work of students from 30 different countries.
Students on the Masters courses within the School of Art & Design are encouraged to develop their individual creative practice and explore critical thinking by sharing knowledge, skills and culture in a positive and collaborative way.
Mastered demonstrates each student's individual creative journey through their course, and includes work from across the extensive portfolio of Masters degrees spanning:
Fashion Management, Marketing and Communication
Fashion, Textiles and Knitwear Design
Visual Arts
Visual Communication
The preview is a great opportunity to view the work before the show opens to the public from the 19 – 27 July.
Reserve your place
Please select 'Add to Basket' at the top of the page and complete an online booking form.
Keep up to date
You can keep up to date with the Mastered work-in-progress, by visiting the specially created online social media hub or by using the hashtag #NTUMastered.
MA/P Photography exhibition
25 – 29 July, Surface Gallery, Nottingham
MA/P breaks down the barriers between commercial and fine art photography. The exhibition represents a diverse range of genres, from fashion and product photography to street, portraiture, and fine art.
 Visit the M/AP website for more details and to view the work.
Enquiries
For all enquiries about this event, please email us or call +44 (0)115 848 8268
---