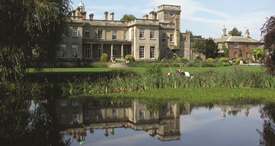 Brackenhurst Campus has a proud agricultural heritage and has developed into a thriving specialist science department within NTU.
Now leading the way in modern environmental sciences we have forged links with institutions around the world to tackle global issues of sustainability, climate change and conservation.
Join our alumni community and annual reunion.
"Since I have been at NTU, I have felt so welcome and part of such a great community. I really love my course!"
Mikaela Ogilvie, BSc (Hons) Equine Sports Science