News
The Unthronged Oracle
Just published, available in all good bookshops
by Jack Blackmore
Mereo Books (U.K.) 2016
This is the most significant book to appear so far on Laura Riding's poetry. It sets out, in straight prose while avoiding critical terminology, the meaning of fifteen selected poems by highlighting the genius of Laura Riding's poetic discovery. Mr. Blackmore treats a range of poems, from the deceptively simple 'The Signature' to the most apparently complex 'The Tiger' and 'Poet: A Lying Word', to demonstrate that they make perfect sense, something which has eluded all critics until now. He does not suggest she is simple or easy but he does reveal her quite extraordinary knowledge of literature, especially biblical literature, which lies behind all her poems. He also demonstrates that her Collected Poems of 1938 is no loose assembly of poems, as the case is with most collections, but a careful gathering in of her work to make one continuous epic poem. The following quotation appears on the book's back cover:
Laura Riding was a major poet, but her poems, though widely admired and influential, have been little understood. Throughout the 1920s and 1930s she had been 'a devout advocate of poetry' believing that 'to go to poetry is the most ambitious act of the mind.' Her renunciation of poetry in the 1940s gave rise to bemusement, not helped by the fact that not until 1970 did she gave a substantial explanation.
Jack Blackmore tackles the causes of the neglect of Riding's poetry and finds in her own critical work the basis for new and productive approaches to her poems. He gives a close reading of fifteen poems chosen to represent both the progress of Collected Poems and the remarkable range and scope of her poetry. By the end the reader will have come to appreciate both the strength and unity of the poems and the continuity between them and her 'post-poetic' work, in particular The Telling, her spiritual testament published in 1972.
Complementing the work on the poems is Mark Jacobs's vivid memoir of a visit to the author in later life at her home in Florida.
''These essays are interesting and you have done well …. You seem to me fair and just in what you say about her work'. Robert Nye
'This is ambitious work, full of insights' Professor Michael Schmidt
Robert Graves's Debt to Laura Riding
by Michael Kirkham
Michael Kirkham, the author of Poetry Of Robert Graves (Athlone Press: 1969), wrote this essay for 'Focus On Robert Graves' (edited by Ellsworth Mason, Number 3, 1973). A revised version later appeared in Chelsea 33 (September 1974) edited by Sonia Raiziss in a 'Symposium' on Laura Riding, which also included appraisals by, among others, Alan Clark, Joseph Katz, Donald Sutherland and Paul Auster, and a lengthy reply to Kirkham's essay by Laura Riding herself. The essay sheds a great deal of light on, first, the reliance by Robert Graves, as far as The White Goddess and beyond, on Laura Riding's work, but second and equally importantly, it throws more light on Laura Riding's poems (and other writings) and the nature of their composition. In Kirkham's words, 'I have discovered that the extent of Graves's dependence upon Laura Riding's work is even more considerable than I had inferred [from his book on Graves]'. The contrasts Professor Kirkham draws between the work of the two poets proves illuminating for both.
I am indebted to Michael Kirkham for giving his permission to reclaim this invaluable essay for the Laura (Riding) Jackson website.
SOME TREATMENTS OF LAURA (RIDING) JACKSON
Mark Jacobs and Alan Clark
Hiroshima Studies in English Language and Literature, Vol. 21, Nos. 1 and 2, 1971. 1-29. [Summary] [Notes]
This essay has its origins in our reading of Anthony Thwaite's Contemporary English Poetry: An Introduction, a textbook first published in Japan in May 1957, and revised for publication in Britain in April 1959 (Heinemann); it was re-issued in 1964. The book, with its treatment of Laura (Riding) Jackson's work and of herself, did not come to our attention for some time, but so much of a similar sad nature has been published both before and after its appearance that we have found it to provide an adequate focus for thought on the matter of misreporting of critical fact.
Contemporary Misogyny: Laura Riding, William Empson and the Critics – A Survey of Mis-History
by Mark Jacobs
Published by Oxford University Press on behalf of the English Association 2015
This essay examines three books: A Survey of Modernist Poetry, by Laura Riding and Robert Graves, Seven Types of Ambiguity by William Empson, and William Empson: Among the Mandarins by John Haffenden. It shows how and why Laura Riding was the original author of the interpretation of Shakespeare's Sonnet 129 in A Survey of Modernist Poetry, which provided the idea for Empson's understanding of 'ambiguity' which in turn was highly significant to the subsequent development of 'New Criticism'. It examines the history of A Survey of Modernist Poetry since its first publication in 1927, its treatment by critics and reviewers, and its mistakenly being described as a book by Robert Graves up to the present day as epitomized in John Haffenden's biography of Empson. It also indicates that modernist or post-modernist literary criticism from 1927 onwards would have been significantly different had numerous critics, Empson among them, but other poets and authors, too, given more attention to the work of Laura Riding than to Robert Graves.
Abstract:
http://english.oxfordjournals.org/cgi/content/abstract/efv017?
ijkey=RaejhXDnz1k58Ae&keytype=ref
Full Text:
http://english.oxfordjournals.org/cgi/content/full/efv017?
ijkey=RaejhXDnz1k58Ae&keytype=ref
PDF:
http://english.oxfordjournals.org/cgi/reprint/efv017?
ijkey=RaejhXDnz1k58Ae&keytype=ref
A new essay by Andrea Actis
on Laura (Riding) Jackson and 'seriousness' in literature
http://www.worldpicturejournal.com/WP_9/Actis.html
Notes on "Seriousness"
Andrea Actis
"Most things in the world have by now been denaturalized; and most things, once they have been denaturalized,
will register as inadequate or pernicious ideas to us until our new ideas themselves become naturalized and we are compelled
to begin taking some of the old ones seriously again. One of these things is the sensibility—both possible and impossible to periodize,
a variant of aesthetic judgment but necessarily discrepant from it—of "seriousness" itself."
[Opening paragraph of Andrea Actis' essay.]
Letter to Language And Style, 1978
in response to Christopher Norris' review of The Telling

This letter represents Laura (Riding) Jackson's rejection of and contempt for current English academic literary criticism
as presented in a review of The Telling by Christpher Norris.
New essay by Andrea Rexilius
Now available February 2014
'Against the Commodity of the Poem' (Part 1)
'Against the Commodity of the Poem' (Part 2)
"Why do we write poetry? According to Laura (Riding) Jackson, when she still believed in
and wrote poetry, it is not to create "art" but to discover "an advanced degree of self" (Anarchism, 119)."
Published by http://coldfrontmag.com/laura-riding-jackson-against-the-commodity-of-the-poem-part-1/
Contemporaries & Snobs
by Laura Riding
Edited by Laura Heffernan and Jane Malcolm
University of Alabama Press
Quality Paper 160pp $34.95
E Book 160pp $34.95
http://www.uapress.ua.edu/product/Contemporaries-and-Snobs,5772.aspx
This new edition of Contemporaries and Snobs, a landmark collection of essays by Laura Riding, offers a counter-history of high modernist poetics. Laura Riding's Contemporaries and Snobs (1928) was the first volume of essays to engage critically with high modernist poetics from the position of the outsider. For readers today, it offers a compelling account—by turns personal, by turns historical—of how the institutionalization of modernism denuded experimental poetry.Most importantly, Contemporaries and Snobs offers a counter-history of the idiosyncratic, of what the institution of modernism left (and leaves)behind. With Gertrude Stein as its figurehead, the book champions the noncanonical, the "barbaric," and the undertheorized. Riding's nuanced defense of a poetics of the person in Contemporaries and Snobs represents a forgotten but essential first attempt to identify and foster what is now a well-defined poetic lineage that leads from Stein to the contemporary experimental avant-garde. In these essays, Riding takes her readers on a remarkably thorough tour through the critical scene of the 1920s. Among other influential treatises, she considers T. S. Eliot's The Sacred Wood and his editorial essays in The Criterion, Allen Tate's "Poetry and the Absolute," John Crowe Ransom's essays on the modernist poet, Edgell Rickword's essays in The Calendar of Modern Letters, and Herbert Read's
posthumous publication of T. E. Hulme's essays. All of this criticism, Riding notes, gave modern poets a sheen of seriousness and professionalism, but was it good for poetry? Her decisive answer is "no." This new edition includes an introduction by Laura Heffernan and Jane Malcolm that makes legible the many connections between Contemporaries and Snobs and the critical debates and poetic experiments of the 1920s, as well as explanatory notes, a chronological bibliography of Riding's work, and an index of proper names.
"It was left for Miss Laura Riding, American poet residing in England, to discover [Gertrude Stein's Composition as Explanation], and to appreciate it." —Elliott Paul, Paris Tribune
"[Riding] has made a singularly complete and convincing survey of the causes of modern poetry."
—Times Literary Supplement
Visit http://www.lauraridingjackson.com/ for news from the Laura (Riding ) Jackson Foundation in Florida
and http://www.facebook.com/LauraRidingJackson
New Essay
Literature's nuisance: (Riding) Jackson's memoir
A review of The Person I Am: The Literary Memoirs of Laura (Riding) Jackson
by
Becky Peterson
published in Jacket, February 2013
"To critics, (Riding) Jackson says, she is "a nuisance" (1:145): "my work has an effect of dampening, discouraging, literary interest in it because it asks no favors of good regard, and offers no congratulations for attention paid to it as manifesting sensible discretion and sagacity" (1:201). It is in fact her work's demanding, unapologetic quality — and its continuing relevance to writers and readers — which provokes fascination and literary investigation."
See also
http://www.poetryfoundation.org/harriet/2013/02/the-literary-memoirs-of-laura-riding-jackson/
'Re-writing History, Literally: Laura Riding's The Close Chaplet'
An essay on The Close Chaplet, Laura Riding's first collection of poems, 1926
by Mark Jacobs
Gravesiana, Volume 3, No.3 Summer 2012

Contemporaries & Snobs
A new edition to be published in Autumn 2013 by
University of Alabama, Modern and Contemporary Poetics Series
edited by Jane Malcolm and Laura Heffernan
Contemporaries & Snobs was composed at the same time as A Survey of Modernist Poetry
and the latter more popular, indeed famous, book is based on its principles and ideas.
See 'Laura (Riding) Jackson and Robert Graves: The Question of Collaboration'
Gravesiana, Volume 3, No.2, Summer 2010, by Mark Jacobs
Key Words
Number 10, 2012
Review by Morag Shiac
John Nolan and Carroll Ann Friedmann (eds), The Person I Am: The Literary Memoirs of Laura (Riding) Jackson.
Nottingham: Trent Editions, 2011. 2 vols, 372 pp. & 354 pp. £15 each, pb. Laura (Riding) Jackson Series: General Editor, Mark Jacobs.
ISBN 978-1-84233-1439 and 978-1-84233-1446.
January 2012
Jack Blackmore Julia Fiedorczuk and Anett Jessop
delivered at the Cornell Laura (Riding) Jackson Conference 2010.
October 2011
The Person I Am
a new book in 2 Volumes by
Laura (Riding) Jackson
edited by John Nolan and Carroll Ann Friedmann
Series editor Mark Jacobs
£15.00 per volume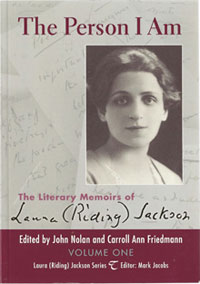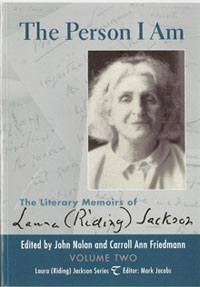 A two-volume book of literary memoirs by Laura (Riding) Jackson, written between 1972 and her death in 1991, opens with her even-handed account of her personal rôle as a poet, critic and writer throughout her life, and evaluates and reflects on the broad issues of her literary milieu from the 1920s onward and the ground she occupied within it. It comprises numerous commentaries on those she had personal working relations with, such as the Fugitives, Robert Graves, Jacob Brownowski, Norman Cameron and others of the 1920-1930s and beyond, to those who impinged closely upon her work such as W. H. Auden, W. B. Yeats, T. S. Eliot, Ted Hughes, Sylvia Plath, plus her views on various modernist critics.

Trent Editions is preparing eight volumes of Laura (Riding) Jackson's work to be published sequentially, three of them hitherto unpublished in book-form, while others will be edited and annotated re-issues of books difficult to find, such as Experts Are Puzzled (1930), The World And Ourselves, a new collection of stories and a selection of letters.

Laura (Riding) Jackson, The Person I Am, Volumes I and II, price £15 each. ISBN Vol. 1 SBN: 9781842331439, 372pp, Vol.2 ISBN: 9781842331446, 356pp. A5. Publication date: 20th October 2011
Distributor Central Books: https://onlinestore.ntu.ac.uk/ and all good bookshops. Also available now on Amazon Kindle
These letters written to Naomi Mitchison along with her replies in 1937 are now added to the Scholar section. They concern Naomi Mitchison's participation in Riding's The World And Ourselves (1938) and refer to the nature of the proposed book and its author's political background. They are from the National Library of Scotland Archive MSS Acc.9186, folder 1, from Laura Riding to Naomi Mitchison, March 6 & 11, 1937. Transcribed by Alan J Clark 16th June 2011, with an attempt to reproduce any minor oddities of capitalisation or punctuation.
Two other new letters of 1970 may be found addressed to William Empson on the subject of A Survey Of Modernist Poetry (1928) and his acknowledgement of it as a source for his first edition of Seven Types Of Ambiguity (1930).
Focus is now online in four sections:
A focus 'is a point from which any activity (such as disease or an earthquake wave) originates. At any rate, a point at which forces meet. You know how we speak of things being "in focus". My idea is, then, that we should put ourselves in FOCUS….'
A description of Focus by Laura (Riding) Jackson is to be found in the Berg Collection of John Aldridge papers
Focus was published locally in Majorca, without boards or covers, and was planned as a periodical which would publish personal statements from contributors who, for the most part, knew each other, and therefore the number of copies was very small, perhaps somewhere between thirty and forty copies and hence extremely rare nowadays, given the sparseness of copies and the fragility of the paper. Its importance lies, as well as in the writings themselves, including poems and other material, in the picture it presents of the Majorcan milieu and their comings and goings. It was distributed privately among friends. Contributions mostly take the form of letters lightly edited by Riding or requested by her. For example, Riding's letter in Focus I discusses her current reading, a book she wanted to write about women as people, her progress on a Dictionary of Related Meanings she had begun the year before, these two books completed much later in her life as The Word Woman and Rational Meaning, and her hopes for Focus.
Focus remains under copyright. All permissions to reprint or republish parts, portions or the whole of Focus must be sought from The University of Cornell Kroch Library. The copy presented here was previously authorized by The Laura (Riding) Jackson Board Of Literary Management and is the only copy available on-line. All rights reserved.
Laura (Riding) Jackson Cornell University Conference, 28 October 2010
Sponsored by the Laura (Riding) Jackson Board of Literary Management and the Rare and Manuscript Collections, Cornell University Library.
On the Continuing of the Continuing
Written by Laura (Riding) Jackson Circa 1980, this previously unpublished short essay is now available as a fine-printed book in a limited edition run of 100 numbered copies from Wyeswood Press (2008). This publication includes colour facsimiles of four pages of the manuscript, and a previously unpublished photograph of Laura (Riding) Jackson from 1970. Designed and typeset in Lexicon at Libanus Press, Marlborough, printed by Hampton Printing of Bristol on Zerkall paper and bound by Ludlow Binders Ltd. Ludlow. 24pp.
'The single I speaks the truth of the invariable Only-I, the infinite One that being is in being all-real in whatever, whoever, is' (p.1).
To order a copy, or for more information e-mail John Nolan.
Archive Exhibition and Literary Management Board Meeting
On Wednesday 2 and Thursday 3 of July the Laura (Riding) Jackson Literary Management Board gathered from around the globe at Nottingham Trent University for their annual meeting.
On Wednesday the meeting was opened by Professor Marianne Howarth, followed by a brief talk by Dr Mark Jacobs, and an exhibition of archive works by Laura (Riding) Jackson, including rare books from the Seizin Press, out of print work, and original letters from Jackson to Dr Jacobs. Mrs Joan Wilentz of the Laura (Riding) Jackson Board gave a speech of thanks to Nottingham Trent University for hosting the event and congratulations for acquiring the archive of Laura (Riding) Jackson letters and documents.
The event was attended not only by members of the Literary Board, but academics from within Nottingham Trent University including Peter Jones (Senior Pro Vice-Chancellor for Academic Development and Research) and Professors Marianne Howarth (Dean of the School of Arts and Humanities); Nahem Yousaf (Subject Leader for English); Martyn Bennett (Associate Dean for Research and Graduate Studies); John Goodridge (Professor of English, Editorial Director of Trent Editions); and Stan Smith (Research Professor in Literary Studies).
A Mannered Grace, the authorised biography of Laura (Riding) Jackson by Elizabeth Friedmann, has been published by Persea Books (2005) and is available at all good bookshops or via the Internet. This is the only biography Laura (Riding) Jackson countenanced and had her full backing, including complete access to letters, unpublished typescripts, manuscripts and personally afforded views and memories on a great many events. She denied all other biographers access to her papers.
The Failure of Poetry, the Promise of Language (Poets on Poetry Series)
Published April 2007 by The University of Michigan Press and edited with an introduction by Dr. John Nolan, this book is a reconstruction of a book entitled The Failure Of Poetry envisaged by Laura (Riding) Jackson in the 1970s, with essays and pieces of writing assigned to it but not published in her life-time. Dr. Nolan has 'reconstructed' the book from the typescripts and manuscripts prepared for it representing her reasons for her renouncing poetry after her Collected Poems were published in 1938. This book, he says, '...is best thought of not as poetics, not as secondary critical commentary on something else (on the nature of poetry. for instance), but as primary in its own right, part of the author's attempt at truth-speaking outside the "pleasance" of poetry.