Library

Case studies
Case Studies
Student A - BA (Hons) Education Studies and Early Years
Student A has completed her first year at NTU. This case study illustrates how the Library Learning and Teaching Team [LTT] supports student transition and progression and, ultimately, helps raise attainment.
"I had taken a gap year from leaving college, to work, before coming to university. In that time I felt I had basically lost the skills needed to write academically, structuring essays, and breaking down the essay title. I did, at the beginning of term begin to worry about this, and struggled to understand what was needed for my first assignment in Early Years".
In response to her concerns at the start of her course, Student A was very proactive; she started to engage with both her course tutor and the LTT's service. Following her induction in Welcome Week that promoted all of the different types of support the LTT provided, she attended bespoke sessions delivered by LTT as part of her course, signed up to workshops in the Events for Students programme and explored the multi-modal resources, advice and guidance in the Student Learning Room. However, she still felt that she needed additional, one-to-one guidance and reassurance since she was struggling to understand the expectations and terminology of assessment in Higher Education. Therefore, Student A booked appointments with LTT librarians / advisers at regular intervals throughout the year for support with different elements of the academic writing process from planning and drafting to referencing. She also benefited from an appointment with a Student Mentor who, "reassured me, and gave me confidence that it is normal and OK to not understand everything we are presented with straight away".
Student A values and continues to use this personalised service because it offers her an opportunity to discuss her ideas and helps her to respond to the areas for improvement identified in course feedback. Student A maintains that as a result of her appointments with the LTT she has achieved first class grades for her assignments and, perhaps more significantly, "I have gained lots of confidence in my own capability." It is this, as figure one demonstrates, that has led Student A to be a highly motivated and successful student. Far from the anxious student who first joined NTU doubting her own ability, Student A now feels in a position to offer support to her peers; after submitting a successful application she will be joining the LTT as a Student Mentor in 2016/17.
Figure One: Student A's Dashboard
The blue line shows Student A's level of engagement at NTU which is significantly higher than the average level of engagement recorded amongst the other students on her course.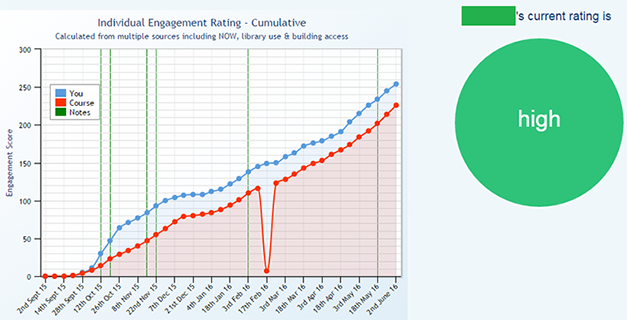 Student B - BA (Hons) Education Studies and Sports Education
This case study demonstrates the impact the LTT has in terms of both student retention and attainment.
Student B was 22 when he started his course at NTU. He was disillusioned with studying after completing his BTEC course and decided it was best to gain experience in the workplace. After spending three years working with young adults with special needs, he decided to return to full-time education in order to pursue a career as a sports teacher. Student B started identifying the teacher training courses that he wanted to apply for in his second year and, as a result, set himself a target of graduating with a good 2:1. However, his grades in his first year were inconsistent and he wasn't sure why his grades ranged from thirds to mid 2:1s. Furthermore, he had never felt that he was "particularly academic" and had always struggled to put his ideas into writing. He attended a critical and reflective thinking workshop that was delivered by the LTT as part of a second year Education module. This was designed to help students prepare for the module assignment. This prompted him to book an individual appointment, seeking ways to address his erratic assignment marks across the rest of the modules he was taking. Student B made a number of appointments from the second term in his second year onwards in the lead up to assignment deadlines to help him organise his thoughts and structure his academic writing.
Significantly, at a stressful point just after Christmas in his third year, Student B received a disappointing assignment mark. He reported a crisis of confidence to the extent that he was questioning whether he should continue with his studies. He discussed his concerns and the feedback that he had received with a member of the LTT. Subsequent appointments were focused on helping Student B to incorporate more critical analysis and accurate references into his writing so that, "I felt back on track and all my worries disappeared". He was now determined to complete his final year dissertation to the best of his abilities and it was during this time that he made the most use of the individual appointments offered by the LTT. He remembers that "the best thing about these appointments was that I had a sounding board. It motivated me and put my mind at rest that I was meeting the criteria on the MASH sheet."
Student B believes that the combination of the one-to-one sessions and the Student Learning Room resources that were signposted to him helped him to develop the techniques he needed to execute his ideas more effectively and 'refine' his writing.
Student B not only achieved a high first in his dissertation, which was commended for the obvious improvements in his writing style, but graduated in 2016 with a First Class Honours degree.
Student C
Student C was employed as a Student Mentor in the LTT for the 2015/16 academic session. This case study highlights the benefits of the employment opportunities that NTU Library offers to NTU students. It also supplies evidence that peer support provision makes a significant contribution to student progression and raises attainment levels.
Student C, a final year Psychology undergraduate, provided support for both statistics and academic writing. During her time as a Student Mentor she had 82 appointments with students as well as supporting the workshops that were delivered as part of the Library's Events for Students programme. Feedback from students who met with Student C, as well as from students who had appointments with other Student Mentors, reveals that they felt more comfortable talking to their peers about their concerns and felt reassured by having support from a current student who understood what was required for successful learning at university. Throughout the year Student C was credited by a number of different students for helping them to improve their assignment marks. For instance, one second year Psychology student made a number of separate appointments with Student C between January and May 2016 because she was "stuck" on a 2:1 and aspired to higher assignment grades. With Student C, the student compared the marking criteria to the feedback so she could identify the areas for improvement required for future coursework submissions. Together they not only worked on assignment preparation, but statistics and exam techniques. The student reported that as a result of support offered by Student C her grades had improved from high 2:1s to 1sts in the second part of her second year.
Student C was a popular, reliable and much valued member of the LTT. The Student Mentor role not only offered her the opportunity to develop key transferable skills, but also gave her the confidence and experience required to help her pursue her ambitions in graduate employment.