Nottingham Business School
Economics
Courses
View our range of undergraduate and postgraduate courses.
Overview
The Department of Economics offers students a challenging and vibrant environment in which to study economics. Enthusiasm is our watch-word with regard to our teaching at all levels, with an opportunity to learn from staff who are not only highly committed class facilitators but also engaged in cutting edge research in economic policy and analysis.
One of our team, Professor Rob Ackrill was awarded the Nottingham Trent Students Union Award for outstanding teaching in 2012.
As a Department, we can draw upon the expertise of the Economic Strategy Research Bureau (ESRB). Located within the Department, the ESRB engages in commercial research and through this expertise can impart to students how economics is used proactively by a range of organisations, both private and public sector. ESRB members contribute directly to our undergraduate and postgraduate portfolio at all levels, enabling our graduates to obtain an economic toolkit that is attractive to potential employers.
Specialist original research in Economics is conducted to internationally-recognised standards by members of our team, currently including betting and gambling, the European Union, international trade and investment, financial economics and labour economics. This expertise underpins the delivery of our compulsory and optional modules.
Student Economics Society
The society is run by NTU Economics students, who encourage members to share and learn more about relevant Economics topics, as well as enjoy social activities. It is highly active and has the full support of academic staff, who help the society attract guest speakers. For more information see the Society's Facebook page. 
Economics Discussion Papers
The Economics Department at Nottingham Business School has an extensive list of discussion papers available. 
Staff profiles
For staff members please see the staff profiles section.
Contact
Alan Collins
Head of Department
Department of Economics
Nottingham Business School
Email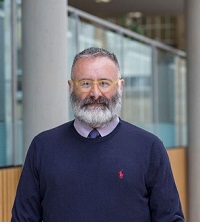 Alan Collins
Head of Department

---