Nottingham Business School
Visit us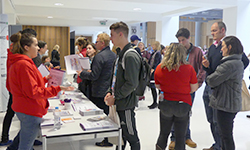 Thinking of applying to NTU? If so we'd encourage you to come to one of our Nottingham Business School open days where you'll be able to find out more about our courses, get a feel for our campus and explore our fantastic facilities.
Our open days give you the opportunity to:
Tour our facilities;
Meet our academics and talk about your course of interest;
Speak to current students on the course about their experience;
Get a feel for what its like to be a Business School student.