Organisational Development

Request a service
Our internal consultancy service
It is important to us that you get the best from Organisational Development; that you get the whole solution, not just part of it. 
We are keen to work with you and your team to create proactive collaborative relationships.
Contact a member of the team to find out more about our internal consultancy service.
We will support you to:
Diagnose underlying organisational development challenges
Identify opportunities for change and improvement
Evaluate potential solutions
Build strategies for successful implementation and delivery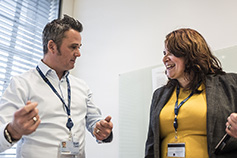 Contact us
If you have a development or learning need that cannot be supported through one of our open events or via our online resources, drop us an email or give us a call on 0115 848 6535 to find out how our consultancy service can help you.