Science and Technology

The Rosalind Franklin Building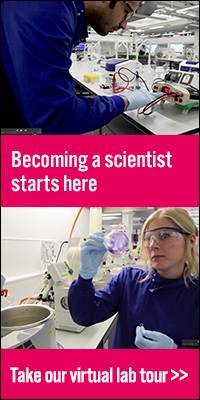 Our bioscience, chemistry and forensic science students get hands-on experience in our laboratories from their very first day. The laboratories in the Rosalind Franklin building are considered to be some of the best teaching and research laboratories in the UK, so it is no wonder that our students get the practical experience that employers and researchers are looking for.
The building was named after the British biophysicist and X-ray crystallographer Rosalind Franklin and features high-specification laboratories.
Pioneering learning
With nearly 200 students in the lab, we've developed pioneering solutions to help you learn. You'll have your own head set and receiver which allows you to tune into your own tutor and lab session. All your lab results are recorded or photographed on a tablet and uploaded for you to work on outside of the lab. As a containment level 2 facility notebooks and belongings cannot be taken in and out of the lab to prevent infection.
Research
A range of leading research by university experts is also housed here, including the latest internationally-recognised 3D security scanning and vision systems work and research into nanomedicine - the medical application of nanotechnology.
Experience our cutting-edge facilities
Take a virtual tour of our facilities to see why our students love studying at NTU. You will be introduced to our staff, meet our students and experience our industry standard equipment.
Pop on your virtual lab coat and join us for a tour.