Social Sciences

Welcome from the Dean
Thank you for your interest in the School of Social Sciences at Nottingham Trent University.
The School of Social Sciences is a large and vibrant academic community which offers a wide range of qualifications in diverse disciplines. We take pride in offering high quality courses that are intellectually stimulating and, where appropriate, relate directly to the needs of communities, society and professional practice.
Our staff are not only experienced and committed teachers, but also engage in fundamental and applied research within their disciplines. This means that as a graduate you can be sure of working with the latest theories, methodologies and applications within your field.
Many of our graduates go on to work in areas related to their studies in both the private and public sectors. Some pursue further study in the form of additional professional training while others may decide to undertake postgraduate study. It always gives me great satisfaction to meet our students and to hear their success stories after studying at the School of Social Sciences. I hope that you will become one of those successes.
I am sure you will find a course here that suits your particular needs and interests and I look forward to welcoming you to NTU.
Kathie Moore
Dean of the School of Social Sciences
School of Social Sciences
Nottingham Trent University
Shakespeare Street
Nottingham
NG1 4FQ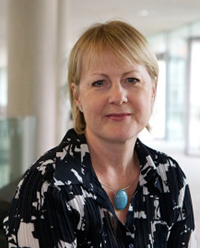 "The School's mission is to enrich and influence the lives of individuals, communities and societies."