Sustainability

Sustainability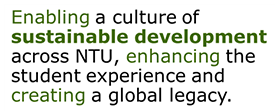 We are proud of our world-class campuses complete with green spaces, sustainable buildings and transport infrastructure.
The United Nation's 17 Sustainable Development Goals (SDGs) influence University strategy and this is reflected in a wide variety of projects. Find out more here
The Sustainable Development Team and Green Academy work in partnership with other departments to continue to embed sustainability into everyday life at NTU.
Read our Sustainability Report update to see our performance
Read our materiality assessment
carried out in summer 2018, helping to identify and prioritise sustainability issues that matter most to our stakeholders.
The Sustainable Development Team was previously known as the Environment Team but we have changed our name to align with the SDGs and to reflect more appropriately with the breadth of projects we get involved with. To see a summary of these, please read our Project Brochure